'night Mother
By Marsha Norman. Holden Street Theatre Company Inc. Holden Street Theatres: The Studio. November 7-25, 2023
When I started directing plays, a very wise and experienced director shared some sage advice saying, "The secret is to cast well" and this magic formula stands out in American playwright Marsha Norman's 'night Mother currently on at Holden Street. The play won the 1983 Pulitzer Prize for Drama and was nominated for the Tony Award for Best Play, and is, in this production a fine example of perfect casting.
Directed by well-known media personality Peter Goers, the story is set in the perfectly ordinary living area, the home of Thelma, beautifully drawn by Kathryn Fisher, widowed mother of unhappily divorced Jessie, played by Martha Lott who delivers a compelling study in controlled depression, steely determination and equally, unredeemable hopelessness. The room has the knickknacks of 30 years of memories, and the set by Gary Anderson feels rather like a comfortable, but not stylish pair of worn in shoes. The tapestries, floral covers, crocheted cloth, hand painted plates (everyone's aunty made them one in the 70's… didn't they?) and washing basket all signal a quiet night in, yet another an uneventful night in for mother and daughter. Unusually, there is a clock set at the current time that chimes every 15 minutes, reminding us, somewhat uncomfortably, that the time is moving inexorably on.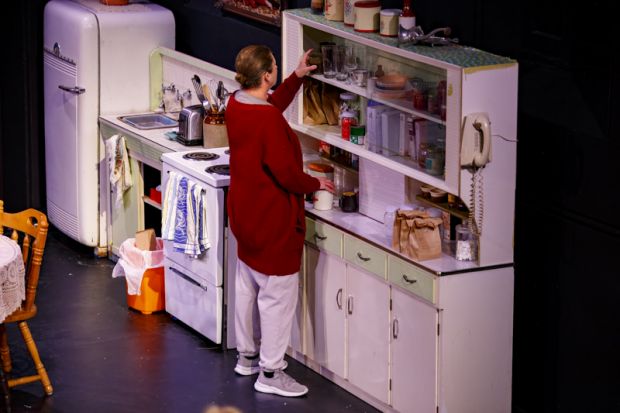 There is a usual mother/daughter Saturday night ritual that includes idle discussion, but on this Saturday night, Jessie is preoccupied with finding her father's old pistol. Rather than the usual nail painting, Jessie calmly announces that she intends to kill herself and thus 90 minutes of challenging and compelling story telling and theatre begins.
Both Fisher and Lott in real life are beautifully groomed, attractive women, but their transformation into Thelma and Jessie renders them almost unrecognisable. Fisher shuffles around in a nylon, quilted dressing gown, complete with socks and slippers. Her hair is drab and sports visible regrowth; she is an older woman well past her prime who relies on being looked after. Lott clomps around the stage, body and head bowed, rarely meeting her mother's gaze, even at the most challenging times. Her clothes are too big, she looks, tired, grubby and 'over it'. She has an almost nervous tick where she fiddles with her clothes, fingers, the washing, anything to escape. Both women appear make-up free, but I suspect something had to be used to make them look so tired and in Lott's case, disinterested in superficial things like her appearance.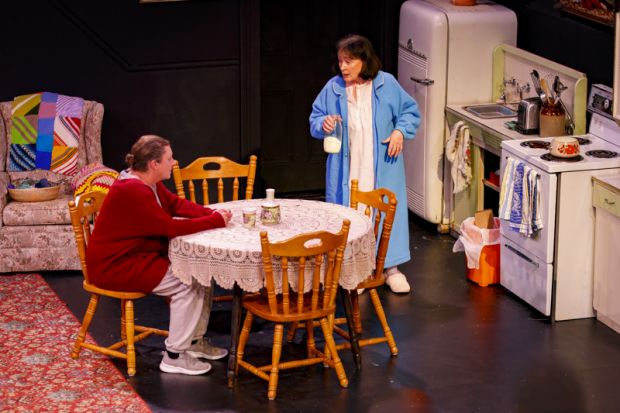 Thelma of course, does not believe Jessie, and the banter travels through disbelief, denial, anger and deep distress. She berates Jessie, challenging her with, 'How am I supposed to protect myself?'
But to no avail, because Jessie is calm, having lists and arrangements set out clearly for Thelma. She is distressed and guilty at leaving her mother, but never wavers. Thelma pleads, cajoles, distracts by making hot chocolate on the 1960's cooker and is finally totally bewildered.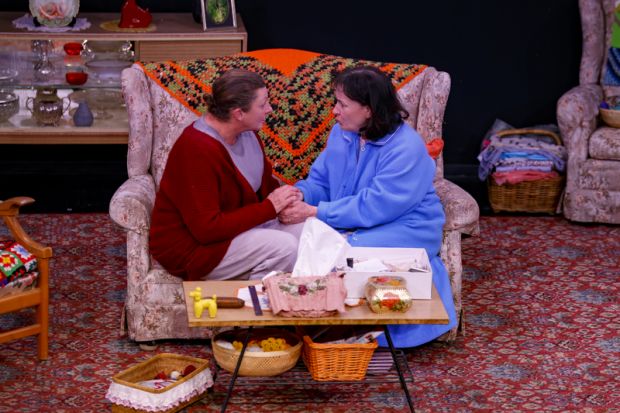 The dialogue is pithy and challenging, and the accents of southern America are flawless. For me, the impeccable use of pause and silence allowed me brief relief and time to really understand what this mother and daughter were facing, both very much together, and yet both alone.
In times when suicide appears to be another pandemic, this play is so very relevant. Do we see the signals; do we have the supports in place? It appears not, and Thelma and Jessie remind us what the outcome can be. Only by seeing this play, will the ending make sense.
Goers, his cast and production team have given us the gift of superlative theatre with 'night Mother. It is not a jolly romp, nor is it light entertainment. It is, however, a masterclass in the craft of playmaking.
Jude Hines
Photographer: Rebekah Ryan