1984
By George Orwell. Adapted and presented by shake & stir theatre co. Directed by Michael Futcher. The Q, Queanbeyan Performing Arts Centre. 30 April - 3 May, 2014 and touring Australia
In his famous essays on clear language, George Orwell counselled against the use of the "decorative adjective", which is a shame because this adaptation calls for a slew of superlatives. shake & stir's take on the 1948 masterpiece is inspired, with an overbearing wall of huge plasmas standing in for Big Brother's screen. Sometimes the visual amplifies the horror by closing in on an emotional response. At other times, it projects Winston Smith's thoughts, or as he imagines scenes of respite reads from his illegal diary. The diary passages allow Orwell's magnificent prose to feature.
Bryan Proberts, looking haggard and prematurely aged, embodies Winston Smith's desperation. As Julia, Nelle Lee is more pragmatic, having learned how to make her own way and find some joys in this horrific world, without giving her soul to it. Even after she's broken, she has a tiny spark of rebellion left in her. Ross Balbuziente as Smith's co-worker Parsons is tragically almost comical as he repeats Party lies and displays pride in his children's denouncing strangers and enjoying hangings. Mistrust between all the characters is demonstrated through the slightest glance or posture.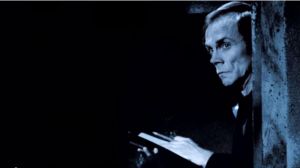 The atmosphere is pure paranoia, emphasised by the larger than life and menacing face of Big Brother. Like much totalitarian imagery, the Party propaganda aesthetic is clichéd and would almost be comical if it weren't so horrific. Some of it is pure 1980s video, almost nodding to Max Headroom. The ambience is created in large part by the lighting. The stage is rendered with deep shadow, strong, white light and freezing cold shades of blue, with the only relief the golden hues of Winston's imaginary forest escape and time stolen with Julia. Strong spots and uplights emphasise every crag of Bryan Probert's face. The stage forms a perfectly composed image.
While the play is brutal, there is no gore or nudity and the true horror here is mostly implied, making the piece excellent for secondary school students. This production is superb and I can't recommend it highly enough.
Cathy Bannister