33 Variations
By Moisés Kaufman. Presented by Cameron Lukey, Neil Gooding & Ellis Productions. Comedy Theatre, 240 Exhibition St, Melbourne. 7 – 24 March, 2019.
This is an exquisite production which has been brought to Melbourne with enormous style and grace. Oscar, Emmy, Tony, BAFTA and Golden Globe winning Hollywood legend, Ellen Burstyn is the lead actor. Burstyn has featured in canonical films such as The Exorcist (William Friedkinand 1973) and Alice Doesn't Live Here Anymore (Martin Scorsese 1974). Her career spans decades and more recently she has appeared in Netflix's House of Cards.
Burstyn plays Dr Katherine Brandt, a musicologist diagnosed with a debilitating disease. She has limited time to uncover the motives behind Beethoven's mysterious obsession with the Diabelli Variations. Naturally he produces a masterpiece, but Brandt wonders how a mediocre composer, such as Diabelli, could inspire such genius. Burstyn's presence is elegant and unassuming and makes this somewhat stubborn and determined character incredibly captivating and charming.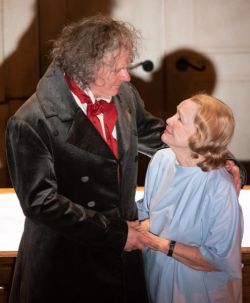 An outstanding Australian cast is also assembled in this production. Lisa McCune plays Clara Brant, Katherine's young and somewhat fickle daughter. The tensions in their relationship become exacerbated as they negotiate Katherine's illness and her obstinate dedication to her career. McCune is able to strike a fine balance between vulnerability and determination that accurately conveys her very difficult situation. William McInnes plays Beethoven with grandeur, humour, irony and a magnificent physicality. He portrays the composer as an eccentric, larger than life character and the effect on stage is astonishing. Helen Morse interprets Dr Gertrude Ladenburger, a Beethoven archivist who assists Katherine in both her professional and personal ambitions. Morse delivers a luminescent performance which allows room for all of the complexities of this decisive persona. Francis Greenslade brings Anton Diabelli to life in a manner which is highly amusing but also capable of being solemn. Toby Truslove (Mike Clark) and Andre De Vanny (Anton Schindler) equally provide delightfully nuanced performances. The production features a live musical accompaniment by renowned pianist, Andrea Katz. Her performance of Beethoven's music is superb and highlights the emotional depth of the various enthralling events. Katz's presence on stage is delicately woven into the play and is an integral part of the performance.
The newly refurbished Comedy Theatre proves to be a magnificent location for this moving and intriguing play. The immaculate restoration beautifully houses an inventive and detailed set which captures the historic atmosphere of the city of Bonn, where much of the play is situated. The design effectively alludes to the historical period but also has a wonderful lightness which easily lends itself to the more contemporary elements of the story. This is a witty and profound text by an accomplished author and theatre practitioner who renders classical music history fascinating and engrossing. The play has been carefully crafted for the Melbourne stage with a calibre rarely seen in this city and is not to be missed.
Patricia Di Risio
Photographer: Lachlan Woods