4000 Miles
By Amy Herzog. University of Adelaide Theatre Guild. Little Theatre, Adelaide. Oct 9-23, 2021
Shakespeare, in As You Like It, wrote – 'Sweet are the fruits of adversity'. This a very apt quote for Amy Herzog's 2011 American family drama, which was nominated for the 2013 Pulitzer Prize in 2013 and has been performed numerous times throughout the world. Part of this play's charm and appeal is its simplicity. Here we have no major socio-political 'issue' based play, but a pertinent and touching drama between a loving, elderly New York Jewish grandmother, Vera Joseph, and her troubled 21-year old grandson, Leo Joseph-Connell.
Late one night, Leo suddenly turns up at his grandmother's apartment in Greenwich Village, New York. He has travelled from his home in Seattle, Washington State, across the entire USA – on a bicycle. Along the way there has been a tragic accident. Leo's best friend, Micah, who was accompanying Leo on this epic journey, was killed by a passing truck. Rather than return home, Leo continued his journey, much to the disappointment and disgust of his now ex-girlfriend, Bec, who is now also in New York. Leo is in a state of shock and grief, bewildered by what has happened, not only on his journey but also his estrangement from family and friends. His feisty and independent grandmother offers him some hope and solace.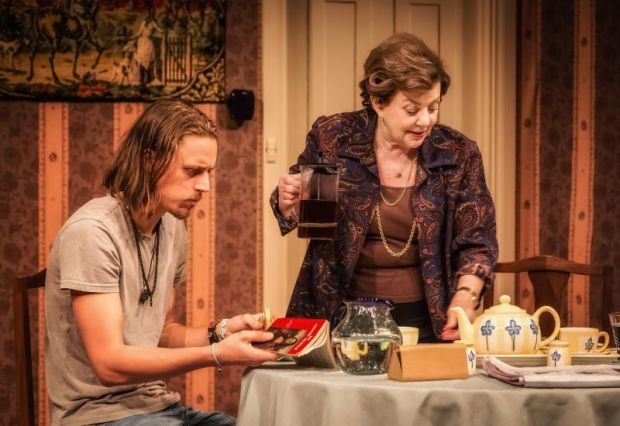 This could be termed a 'generational play' as a large part of its appeal are the scenes between Leo and his grandmother, Vera, each coming from different generational perspectives, ethic, and language. These scenes are touching, personal, and often very funny. Despite their differences the binding factor is the deep family love between a grandmother and her grandson who is in desperate need. Death haunts this play in numerous ways - the death of a friend, husbands, as well as the end of family and personal relationships. Various things are discussed in retrospect, reminiscences, and regrets. There is, however, a lot of hope and the realization that indeed, 'Sweet are the fruits of adversity'; bitter-sweet, perhaps, but sweet, nonetheless.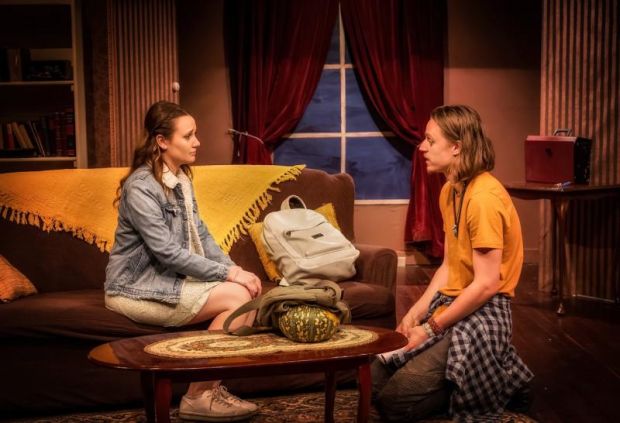 All this could easily descend into mawkish sentimentality, but Amy Herzog is too fine a playwright to allow this happen. The steadily unfolding drama is full of wit, humour, and human decency, which is fully realized in this production by the University of Adelaide's Theatre Guild, directed by Erik Strauts. The clarity, depth, and humour, of the play is also well served by his cast – Julie Quick (Vera), Jackson Barnard (Leo), Laura Antoniazzi (Bec), and Amanda (Naomi Gomez), with Jenience Heer providing the off-stage voice of Leo's sister, Lily. As mentioned, the scenes between Vera and Leo are the heart of this play, and Julie Quick and Jackson Barnard are terrific, especially in the roof-top scene in which Leo finally cracks and expresses his grief – deeply touching, as well as amusing. Whilst the New York aspect of this production may be a bit variable at times, nonetheless, there is an absolutely fabulous performance by Naomi Gomez as Amanda, the young American-Chinese woman that Leo has met at a bar and brought back to his grandmother's apartment. Amanda is slightly drunk, calls Leo 'Mountain Man', and cleverly avoids his amorous advances. For this play and production, Amanda is New York, with all its glamour, mercurial vanity, wit and humour – and Naomi Gomez in her 'theatrical debut' relishes each moment; she is mesmeric and extremely funny.
Congratulations to Erik Strauts, who as mentioned in the 'Program Notes' experienced a similar loss of a close friend. Congratulations to the cast, crew, and the Theatre Guild for producing and honouring this charming, delicate, and all-too-human play.
Tony Knight