42nd Street
Music by Harry Warren. Lyrics by Al Dubin. Book by Michael Stewart and Mark Bramble. Regals Musical Society. Director: Christie Koppe. Musical Director: Peter Sampson. Choreography: Chris Bamford. Rockdale Town Hall. May 12 – 20, 2017
An excellent big brassy and juicy band filled the big barn that is the Rockdale Town Hall and out onto the stage sauntered a large troupe of well drilled tap dancers who exuded enthusiasm and panache.
The Regals gave 42nd Street a red hot go and the combination of great tunes ("We're in the Money", "42nd Street" and "Lullaby of Broadway"), large dance numbers and the odd sprinkle of spectacle made for a very entertaining production.
42nd Street has an illustrious pedigree. It opened on Broadway in 1980, and went onto win the Tony Award for Best musical, running for almost a decade. A revival is currently on stage on the West End.
The plot is pretty thin but that doesn't matter. It's set during the Great Depression, where an aspiring chorus girl Peggy Sawyer joins the cast of the musical Pretty Lady. When the leading lady is injured she has to navigate the notorious director Julian Marsh to become a star.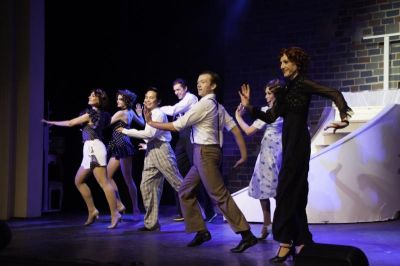 There were a few stand outs in the cast. Lorna McGee as Peggy Sawyer and Greg Robinson as Billy Lawlor both had a stamp of class about them.
The choreographic highlight was "We're In the Money", aided by nice use of fluorescent lights.
Now some people in community theatre land think that reviews should only be positive and not point out areas where there is room for improvement. For those sensitive types please stop reading now as this could affect your blood pressure. Indeed, when things go a little wrong in a production it can be quite memorable.
I enjoyed the fact that one door kept swinging open and that a member of the backstage crew was caught on stage by accident another time. Only those lucky enough to be there on opening night got to enjoy those two incidents. Also the fact that the backdrop - depicting a wall - swung a little bit when cast kept bumping into it, was quite quaint.
Playing one of the leading characters was Peter Sharratt as the Director Julian Marsh. Peter is the President of the Regals Musical Society and has worked tirelessly to keep them going in recent times. He's also a really nice guy and for all these reasons it would have been difficult for a production team to go past him during the audition.
It has to be said that although he has a charismatic stage presence his singing was not up to the standard of other principals in this production.
But don't let this deter you from buying a ticket; as Peter wrote in the program, this production "provides a couple of hours of good old fashioned entertainment".
David Spicer