Ophelia Thinks Harder
By Jean Betts. WIT Incorporated. Bluestone Church Space, Footscray. Nov 9 – 24, 2018
Ophelia Thinks Harder is the new production by WIT Incorporated, who have taken on the grand task of tackling Jean Betts' masterfully witty post- modern reinterpretation of Shakespeare's Hamlet.
Ophelia, as we know her, famously suicided after being driven mad with grief from the death of her father Polonius, who was killed by her lover Hamlet. Not in Ophelia Thinks Harder - a feisty outlook and a wanton list of recognizable relentless characters all create havoc as they poke fun at gender inequality and cultural misdemeanors.
Belinda Campbell (director) has developed a colorful and adventurous production. Ophelia (Sarah Clarke) demands her freedom, wanting to escape the burdens of being a good wife and child bearer. Trapped in her teenage bubble of pop idols, yet fascinated by the witchy world of magic potions, she hopes to snare the facetious Hamlet (Leigh Sully) but he is a foolish philanderer who has no time to commit to just one woman. Her wise maid (Ruby Lauret) tells Ophelia of the shame of non-compliance in a patriarchal world and tries to buckle her up and steer her away from her freethinking mind.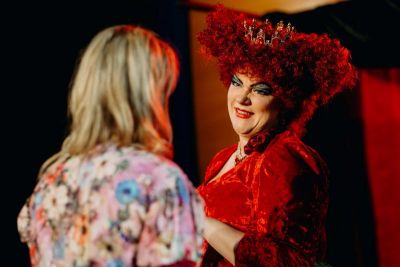 A fine cast of dedicated actors fill the length and breadth of this enchanting production. Clarke's Ophelia is whimsical yet defiant; her strength lies in her questioning rather like Alice in Wonderland. The Queen (Jennifer Piper) is superbly outrageous and pompous; she too derives from the same source, bearing her signature hearts and off the cuff ridiculous statements.
In fact, all actors are comical and the feminist message, although loud and clear, does at times get buried in the farcical pageantry of costume (Georgina Hanley) that is intrinsically connected to the dazzling set design (Clarke and Piper).
This is an entertaining theatrical experience that is rollickingly good fun and despite its two-hour duration and reliance on its bombastic illusionary style, it is an absorbing and captivating production.
Flora Georgiou
Photographer: Jack Dixon-Gunn