A Life in Three Acts
Presented by Sydney Festival and Sydney Theatre Company. Written by Bette Bourne and Mark Ravenhill. Directed by Mark Ravenhill. Wharf 1. January 4 – 16, 2011
There's a problem of identification here. The Wharf 1 program calls this a 'play'. It isn't: it's a sort of an under-rehearsed chat show without a Michael Parkinson or an Andrew Denton to keep it flowing. And it's in two acts, not three.
The star guest has had problems of identification in the past, but not anymore. Bette Bourne fiercely declares that he is an East London gay man who has dressed in drag since the 1970s. Via prompted anecdotes, acid jokes, snatches of unaccompanied songs and the projection of personal photographs we glimpse the outline of an off-centre, off-limits life — including much cavorting in London parks, in gay communes and in the drag-based Bloolips theatre company that he founded and toured to off-off-Broadway-type venues for many years.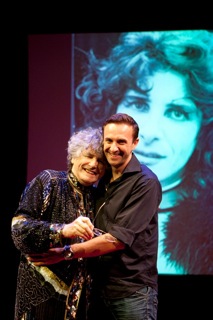 Now in his grey-frizzed 70s, in sparkly top and black three-quarter-length pants, he looks like a cross between Dame Edna and Quentin Crisp. He's got a bad cough tonight, but ploughs on with the faux interview show that he compiled with controversial British playwright Mark Ravenhill (Shopping and Fucking) who himself filled the Parkinson/Denton role when A Life in Three Acts played the Edinburgh Festival in August 2009 and subsequent seasons in The Hague, London and New York.
Illness has prevented Ravenhill from doing this Sydney Festival gig, so local actor Mitchell Butel has been recruited to do the near-impossible job of keeping his other-worldly interviewee on the rails. To his great credit, Butel remains pleasantly interested throughout Bette's many coughs, meanders and losings of his place in his conspicuous on-stage script.
There are some bright, brassy moments and a few flashes of fire when Bette remembers an injustice or rejection or dreadful calamity (like the coming of AIDS). But the night is long and, even after playing London and New York, Bette still seems to need more rehearsals. Whenever he leaves his script on the music-stand and addresses us directly with a remembered song or a raw family memory this odd show starts to work. Maybe if Andrew Denton had been there to ask the questions Bette might have been happier, the narrative might have been sharper, and we might have all relaxed a bit.
Frank Hatherley