Adelaide Cabaret Festival 2011
Reviews from Paul Rodda, Nicole Russo and Kate Peters
Chita Rivera
Dunstan Playhouse. June 17
In her first Adelaide Cabaret Festival, Broadway icon Chita Rivera played to a capacity house at the Dunstan Playhouse - a delightful and intimate venue that let the audience get very close to this extraordinary star.
Ms Rivera remarked that it's the 50th anniversary of West Side Story so she is certainly of an interesting age - and still looks fabulous, with the best legs I've seen in ages and energy to burn. Accompanied by her own M.D. and drummer, plus local bass, strings and trumpet, the legendary music theatre and movie actress gave the audience exactly what they wanted - lots of nostalgia, in-house gossip about Kander and Ebb, Bob Fosse, Gwen Verdon, Shirley MacLaine et al, and some terrific songs from a dozen shows she's starred in.
She may sing some of the notes a little lower, and she may not be dancing quite as energetically as she did years ago, but Chita Rivera has still got it - a warmth that reaches out to each fan in her audience, the showbiz stories everyone wants to hear, and the timing and delivery that every aspiring cabaret artiste can learn from. Way to go Spiderwoman!
Kate Peters

Bert LaBonte. When I Fall In Love. The Nat King Cole Story.
Cabaret Festival. Artspace - 22 and 23 Jun
Loosely based on the tale of Nathaniel Cole's life, this cabaret conceived by LaBonte and written by Ross Mueller jumps back and forth between poetic tales and beautifully performed song. LaBonte's voice is outstanding and sounds not unlike Cole, but the story lacks context and assumes a fair bit of prior knowledge.
The show is light and enjoyable and LaBonte is charismatic and charms the audience easily. His voice is very pleasurable to listen to, but the show is a tad confusing. Borrowing phrasing and lyric from other non-Cole songs, LaBonte weaves a tale of travel and intrigue, sex, love and life – but you have to pay attention, and occasionally you may just get lost along "the highway that's the best."
The curtain call was a performance of 'Open up the Dog House' and the audience was thrilled when LaBonte was joined on stage by David Campbell, playing the character of Dean Martin. Other songs in the show included 'Unforgettable', 'Love is a many splendored thing', 'L-O-V-E' and 'Mona Lisa'.
A basic understanding of the life of Nat King Cole will help you through this show, but the music alone is wonderful to listen to and definitely worth the price of admission.
Paul Rodda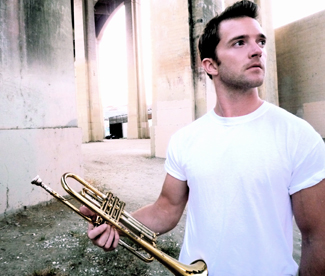 Freeway: The Chet Baker Story
Tim Draxl. Festival Theatre Stage – 17 to 19 Jun.
Sweetly melting chocolate, this is the image that conjures when one hears the sweet sounds of Tim Draxl. In a show dedicated entirely to the life and times of Chet Baker, Draxl takes us on a journey as both narrator and character, through the self-induced highs and self-induced lows of a Jazz superstar.
Far too often nowadays, singers demonstrate their 'vocal dexterity' by pitch shifting and note bending. Refreshingly, Draxl holds some of the longest, sweetest notes this reviewer has ever heard without the vocal gymnastics which are so commonly associated with the music of this century.
Draxl has captured Baker's persona so completely and so passionately, that even a relative unknown to the Baker phenomenon will be compelled to the music.
Draxl is dangerously good. Picture if you will, the warm venue of the Festival Theatre stage, decorated in rich reds and lit by the flicker of a candle and a warm stage light. The wine is flowing and the music – simply divine. Now close your eyes, only for a moment to enjoy the sweet melodies and gorgeous gentle vocals of this talented performer, and you are at risk of drifting off to sleep. Some did. But this is no comment on the quality of this performer, oh no! Gazing around the room, the contented looks on the faces of audience members were evidence of the absolute skill of this singer - simply stunning.
Draxl, who unlike Baker is not an accomplished trumpeter, is joined on stage by Eamon McNelis from Melbourne. Winner of first place in the 2010 National Jazz Awards, it is clear to see why McNelis is a title winning musician as he gently and skilfully plays the Jazz phrases dotted amongst Draxl's lyric.
The performance from these two astonishing performers is liquid gold to the ears. Accompanied by a 3 piece orchestra on Piano, Bass and Percussion the ensemble is complete. A wonderful inclusion for this years cabaret festival, literally hitting all the right chords with the audience. Watch out for Draxl, this guy is unbelievable, and although I'm not in the habit of making predictions, I am predicting something big for this talented young performer. Watch this space.
Paul Rodda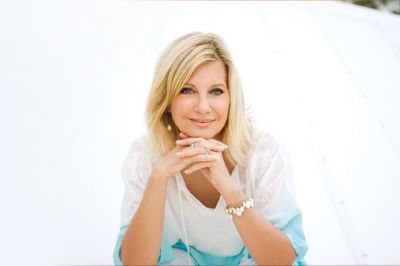 Olivia Newton-John
Festival Theatre Stage – 11 and 12 Jun
Synonymous with Grease, Xanadu and Physical, Olivia Newton John is a name almost everyone knows, and as such she is headlining the 2011 Adelaide Cabaret Festival.
Supported by her own 7-piece touring band and the Adelaide Art Orchestra, Olivia is a spectacle to behold and a sure fire crowd pleaser. Love her or not, you would be hard-pressed not to start tapping your toes or singing along to many of her well known numbers.
In absolute peak condition, Olivia looks fantastic and tells the audience she is the happiest and healthiest she has ever felt, having personally beaten breast cancer. Fans poured into the Festival Theatre and could barely contain themselves in their seats as Olivia sang hit after hit including a bracket of country music, and a section inspired by the movie musical Grease.
Audience favourites included Hopelessly Devoted To You and Xanadu, which turned into sing-alongs shortly after they began. One of her number 1 hits, Physical, which topped the charts for 10 consecutive weeks, has recently been revitalised for an episode of the hit US series Glee, but Olivia decided to sing it in its original format and encouraged the audience to get up and get physical with her. Little encouragement was necessary.
Singing beautifully was not all she had to offer, being wonderfully personable between songs. Sipping on a cup of tea and laughing about oddities and out-takes, you felt like you were in an intimate cabaret show with a consummate performer.
Somewhere Over the Rainbowfeatured as Olivia's "Cabaret selection" and in the country bracket, favourites including Joeline by Dolly Parton and If Not For You by Bob Dylan were hits. The biggest surprise however was saved for You're The One That I Want, when Olivia dived into a leather jacket and was joined on stage by none other than David Campbell in the John Travolta role. The song, and in fact the whole performance, was met with screams of joy and rapturous applause from the whole auditorium.
The Festival Centre turned on a great sound mix for the show and the levels were balanced perfectly, letting the audience enjoy this outstanding singer and legend of Australian music. A wonderful headlining act for this year's Cabaret Festival.
Paul Rodda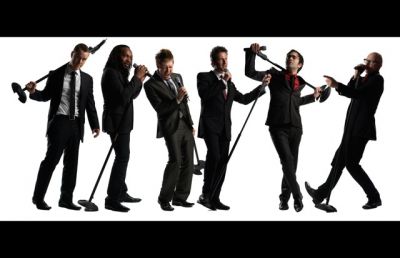 The Magnets
Dunstan Playhouse - 10 to 12 Jun
Launching their unique style onto the Adelaide Festival Centre's Dunstan Playhouse, The Magnets wowed the audience with their "six man sound machine," making all of the pop music they performed with their mouths only.
The group includes beat boxer Andy Frost, vocal bassist Fraser Collins (aka Colin Fraser) and the vocal stylings of James Fortune, Steve Trowell, Patrick Smith and Nic Doodson. The UK pop group perform their own unique arrangements of hit songs including 'Girls and Boys' by Blur, 'Poker Face' by Lady Gaga and 'Call Me' by Blondie. Smith's version of the Bonjovi hit 'Living on a Prayer' was an audience favourite, as was Frost's beat boxing solo, which was as much performance art as vocal dexterity.
Most impressive was the combination of skills demonstrated by these performers as they executed incredibly complex choreography whilst singing their equally intricate parts. It is difficult not to sit there completely astonished as Frost beat boxes and grooves simultaneously.
With a healthy dose of audience participation, the group was interactive from the beginning. Breaking the audience into 3-part harmonies to sing along was just the start. They soon moved to a complicated medley of 26 songs showcasing bands from A - Z. Most of the audience gave up guessing the artists after the first few songs, completely enraptured by the skill of these vocal geniuses.
Sticking it to the boy bands, with some classic movies taken straight out of video clips of the 90s, the boys were always having a joke and keeping the atmosphere light. Fraser was a favourite with the ladies with his unnaturally low voice and cheeky hips in full swing.
This is cabaret for the 21st century and what the next generation will be talking about at festivals 10 years from now – forget crooners and fishnet stockings, this group had the audience popping and locking in their seats.
Paul Rodda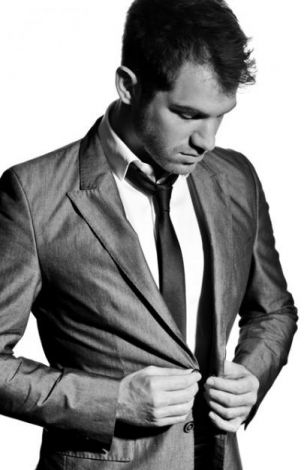 Daniel Boys
The Banquet Room - 11 to 12 Jun
Announcing his own entrance like a comedy act, Daniel Boys fronted up to the Banquet Room stage without any other introduction, launching into song. His band consisted of a pianist, percussionist, bass guitarist, and guitarist.
Boys calls the show So Close, after his latest album released in 2009. His performance is made up of numbers from the album and all have a musical theatre tone. Music included "Run Away With Me" from The unauthorised biography of Samantha Brown, 'Annies Song' by John Denver, a favourite from his childhood, and the theme from Neighbours, which turned out only to be a joke.
The show felt like it had a rough start, but once Boys began interacting with the audience they quickly warmed up to him. All of the songs in the show represented something significant in Boys' life. The story he used to weave the set together was very endearing. Boys mixed humor into the show nicely, and his personality really shone through.
Other songs included 'When The War Is Over' by Cold Chisel, Randy Newman's 'Real Emotional Girl' and 'Everything' by Michael Buble.
This show is cabaret in its original form, with lots of ballads and jazz numbers it makes for a relaxing afternoon's entertainment.
Paul Rodda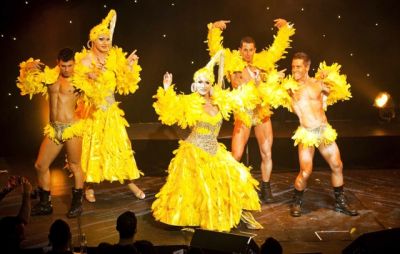 Drag!
Space Theatre, 11 to 12 June
The art of drag has persisted through decades of prejudice and misunderstanding, performing to a mostly niche market until achieving acceptance and appreciation in the wider community during the 1990's. This popularisation came in part thanks to movies such as of Priscilla Queen of the Desert and The Birdcage, both of which featured sympathetic portrayals of homosexual and transsexual individuals, thus helping to introduce LGBT themes to a mainstream audience.
Today, if the Adelaide Cabaret Festival's Drag audience is anything to go by, attending such a performance sees you nestled amongst a wonderfully varied crowd. It's a nice feeling to look around and see so many who would seem unlikely attendees to a show comprised of men spectacularly transformed into Cabaret divas, powering their way through a set of techno-fied tunes.
This high-energy show is full of glitter-sprayed Queens, fabulous frocks and great tunes. These girls look like they are having trick-bags of fun, and its infectious - you'd have to be blind and deaf to not be laughing and clapping along.
If we're completely honest, it's 100 minutes of the pretty much same thing, but they keep hitting the spot with the audience as each number receives rapturous applause. The costumes are a gorgeous extravaganza of feathers and shiny bits, and the support dancers are a sight to behold (check them out ladies - worth the ticket price alone!).
The crass and comedic hostess-ing of multi DIVA Award-winning Portia Turbo went down a treat, with a repertoire including Adelaide-specific set of wonderfully low- brow puns.
It's funny, cleverly written and entertaining, though the quality does vary between acts. The highpoints, including Bohemian Polka and Kylie Show, were cheeky and hilarious, but in the lesser numbers the choreography needed fine-tuning. The pre-recorded laughter and applause that accompanied some of the tracks was a little off-putting, mainly because the acts more than stand on their own.
You'll have your favourite Showgirl by the end (my vote goes to Minnie Cooper) but they're all wonderful at what they do, and you can't help but imagine their lives outside of drag. What do they look like grabbing the paper and some milk from the servo on a Sunday morning? One would love the chance to sit and down and have a chat, no doubt each has a life story worth publishing.
Depending on what floats your boat, you may or may not laugh all the way to the end. As long as you come in possession of a sense of humour and an open mind, however, you're in for a fun night out!
Nicole Russo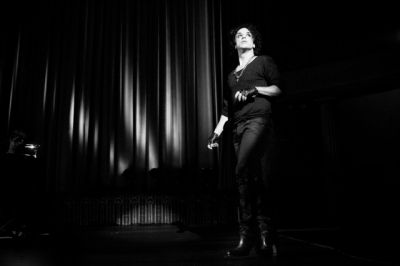 Paul Capsis. Make Me A King.
Cabaret Festival. The Space Theatre – 15 to 17 Jun
The incredibly eccentric, mysterious showman is self-confessedly somewhere between Rhonda Burchmore on crack and an escapee from The Rocky Horror Picture Show in his latest tour Make Me A King. Walking the fine line between genius and lunatic, he covers some of the biggest singing divas of all time, impersonating and recreating them to perfection. Starting early with the Nina Simone hit song 'Feeling Good' Capsis moves on to cover Judy Garland, Billie Holiday and more.
Working the Space Theatre stage with an odd kind of inescapable energy, Capsis gyrates, shakes and wobbles to the Jazz arrangements by pianist Alister Spence. Supported by a 3 piece band including Spence on piano, Capsis is also joined by Lloyd Swanton on Bass Guitar and Toby Hall on Drums and Percussion.
Other well-known songs that get a work over with the famous Capsis style included songs by REM and Garbage. Capsis performed in incredibly high heels and a sequined jacket with fingerless leather gloves and a ribbon of eye makeup, a look which encapsulates his whole performance.
A musical chameleon, Capsis lets the soul of the artists he covers inhabit him in what he describes as "channelling" them. Dissapointingly, Capsis was delayed in his arrival to Adelaide and had to cancel earlier shows in his run due to the ominous ash cloud, which he cleverly referenced in the show, mentioning "ash on the brain" on more than one occasion.
The audience loved Capsis as he joked and laughed. A charismatic performer, this is definitely a show you should try to see if you ever get another chance. He is definitely different, but also a very talented and an incredibly entertaining artist.
Paul Rodda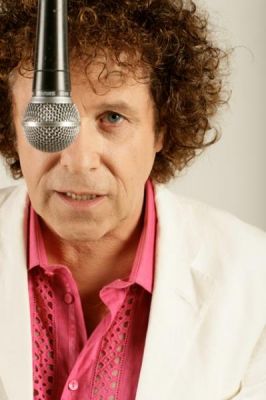 Leo Sayer. The Show Must Go On.
The Dunstan Playhouse – 16 to 19 Jun
The Dunstan Playhouse absolutely rocked to the stamping, clapping, jumping and dancing of the most enthusiastic audience I've ever seen at a sit down concert when Leo Sayer took to the stage.
The super charismatic performer had his audience in the palm of his hands as he charmed women and men alike with his genuine personality. The one-hour performance seemed to fly by, with many disappointed to see him finally leave the stage at the end of the show.
Backed by his own band, Sayer sang rock songs, pop songs, and ballads for his adoring audience and they lapped it up, often getting out of their seats to sway and groove in the aisles.
Sayer interacted with the audience cracking 'dad jokes' all the way and revving the crowd non-stop with his upbeat attitude. Songs sung included 'You Make Me Feel Like Dancing', 'When I Need You' and 'Orchard Road'
Fans had arrived wearing curly afro wigs and carrying placards, and when Sayer took a walk through the auditorium shaking hands and hugging the crowd, the theatre was a buzz.
An absolute pleasure to watch, Sayer is the ultimate performer and could have filled the Festival Theatre had he been given the chance.
Paul Rodda
More on the Adelaide Cabaret Festival - click here