Aftermath
The New York Theatre Workshop Production. Presented in Association with ArKtype and Amnesty International. For Melbourne Festival. Malthouse Theatre. 11 to 14 October, 2011.
Crystallised from many, varied collected stories and individual experiences, distilled, then beautifully crafted into thematic theatre - Aftermath is presented as a collage of embodied stories from a city held to ransom, manipulated and violated. It is a story of communities/people/tribes set against each other by the invasion of external forces. Though didactic, the touch is light, enlightening, edifying and ultimately uplifting.
Aftermathputs very real human faces to compelling stories about people living in the war torn Iraq. Unlike television footage, with all its vicious carnage, this is a processed reality rendering the in-digestible accessible, moving and elucidating. It distinguishes survival as an act of humanity.
The stories are sincerely and masterfully composed by co-writers Jessica Black and Erick Jensen and exquisitely presented by the troupe of skilled actors. They are at no point descriptive in a sensationalist way and at times violence and particularly sexual violence is implied rather than described.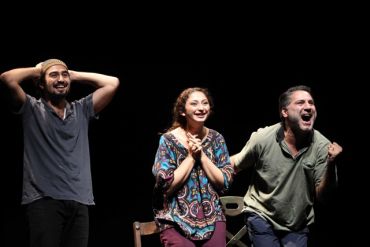 The audience is engaged as if in conversation with the actors as characters, communicating with the aid of a translator. This process, although a little stilted at first, ultimately engenders the audience-actor relationship with a sense of communion. Therefore when an audience member calls out in answer to a character's question there is no jarring sense of a theatrical convention being sullied.
Directed unobtrusively with crisp clarity by co-writer Jessica Black - 'less is more' throughout and there is nothing unnecessary or extraneous, leaving much to the imagination. In front of a scrim of deep blue night sky the stage is unadorned - only chairs and benches - actor's voices and bodies communicate all. Sound is introduced sparingly and sensitively by David Robbins. The lighting, based on David Landers work, is also minimalist.
Surprisingly, on opening night, the house was not completely full for this riveting international work. However, perhaps this is 'kind of understandable' as we are a nation that makes a political football of the desperate plight of refugees, blunting compassion at every turn.
Usually, fearing emotional manipulation, I do my upmost to avoid theatre with even a hint of a political standpoint. However I thought this would be a finely tuned, high calibre work. I was amply rewarded and moved to stand in ovation.
Suzanne Sandow
To keep up with the latest news and reviews at Stage Whispers, click here to like us on Facebook, or follow us on Twitter.