The Age of Entitlement
By Saman Shad. Mongrel Mouth. Merchants House, 43-45 George St, The Rocks, Sydney. December 3 – 20, 2014
"Theatre where you don't have to sit down and shut up" forms the tagline for new immersive theatre company Mongrel Mouth and their second production of the year, The Age of Entitlement.
Breaking the fourth wall, eighteen characters spread across rooms in a gorgeous 19thCentury mansion engaging in loosely scripted dialogue with each other and the audience. Young activist Lara seeks power amidst a corrupt elite, rising from her humble beginnings to overthrow capitalism in a communist coup. The audience is invited to roam the rooms of our own volition and freely partake in discussion with the characters. The young radicals seek our support in signing petitions and sharing the detail of their ideology. My 'save the llamas' poster was frowned upon for its lack of sincerity, which led me to debate with a young Fidel Castro-esque idealist about the downfalls of communism as seen in history. Fun!
The action leads to a climatic hostage scene not unlike the horrifying events Sydney witnessed at Martin Place earlier this week. Who lives and who dies? This time the audience decides; the power is in our hands.
Immersive or interactive theatre is a unique type of performance rarely seen in Australia. Arguably the most famous incarnation to date is the Macbeth-inspired Sleep No More that takes place in an abandoned warehouse in New York and has played to sold-out audiences for three years. The Age of Entitlement takes a more Augusto Boal approach, echoing the principles of Theatre of the Oppressed where the audience is encouraged to problem solve socio-politically relevant scenarios.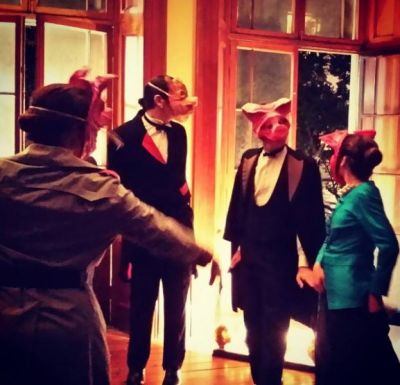 The Age of Entitlement is a strong offering made to the immersive theatre medium. Its strength lies in the production's creative design and the stunning 5-storey mansion in The Rocks that the team secured as part of The Rocks' Pop-up venue initiative. Alex Pf Jackson's costume, hair and make-up design is eye-catching, detailed, and utterly beguiling. Tim Burton meets Gone With The Wind meets revolutionary Russia in a stylised but not over-the-top coup. Sydney needs to see more of Jackson's designs.
Jo Parkin and Shane Robertson's set design is similarly enchanting and keeps the audience guessing precisely which country we have stumbled upon down the rabbit hole. Wherever it is, it's a stimulating environment the audience is keen to explore. David Gerrero's musical direction and Christopher Page's lighting design similarly effectually set the scene.
This show is sold out for good reason – it gives Sydney audiences an alternative to the "sit down and shut up" theatre culture. At times it is hard to follow basic plot movements because sporadic, stand-alone moments throughout the house aren't fully webbed into the larger tale. This made the climatic final scene one of confusion where I wasn't sure which side to be on because I didn't fully understand what they were quarrelling about. However, Mongrel Mouth have made a good start and with more attention to directing audience focus and communication of plot movements, they have a hit formula on their hands. I look forward to seeing future developments from this very healthy addition to Sydney theatre.
Maryann Wright
Images: (top) Mongrel Mouth - Photo by Duncan Maurice and (lower) Mongrel Mouth Actors Alison Crew, Danny Gubbay, Rowan McDonald and Paloma Alma. Photo by Augusta Supple.