Aida
By Giuseppe Verdi. Opera Australia. Directed by Davide Livermore. State Theatre, Melbourne. May 6th -21st 2021.
An expectant hush fell over the packed crowd as the audience prepared for the long and eagerly awaited return of Opera Australia to the State Theatre in Melbourne. As the lambent, longing, opening notes of the overture rippled out from the pit, it was clear we were to be rewarded for our long patience with a night of magnificent music, with Orchestra Victoria in fine form under the assured guidance of Tahu Matheson. As the curtain opened, the scale of the planned spectacle became apparent, with ten independently moving, double-sided projection screens moved in a choreographed ballet around the stage. It's difficult to convey exactly how impressive this is. The screens are all the full height of the stage area and they are manoeuvered around so that they can show independent images, or be placed side by side for contiguous video – most magnificently done during the triumphant return of Radamès to Egypt. (One wonders if it might be made available for a video night?)
The technical achievements of the night were, for the most part, complemented by costumes and props, although some choices of attire were a little baffling and it almost felt a little like a B-sci-fi movie scene at times, with skimpy clothing on the female performers and lots of random shiny things affixed to various people. I must comment on the corps de ballet – a group of female dancers who absolutely worked their hardest, but who had some of the most baffling choreography and who tended to distract rather than enhance the main action. I do not blame the dancers for this, however, and merely note they could have been incorporated in a less distracting way.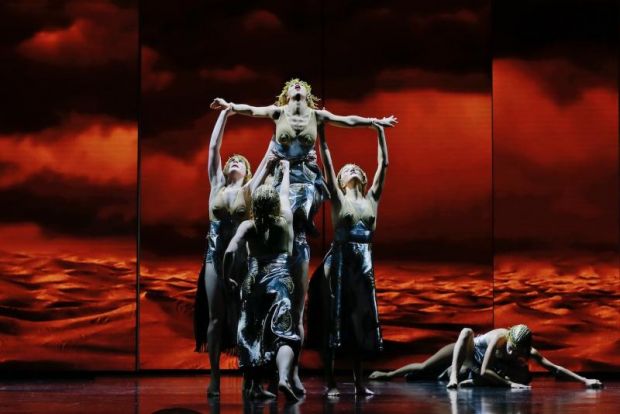 The music was the clear star of the evening, however, and the vocalists were uniformly incredible. The Opera Australia chorus was in fine and unified voice, with excellent diction and competent Italian pronunciation throughout. In the minor roles, which were handled with deft confidence, were Michael Honeyman as Amonasro, Jane Ede as the High Priestess, and Dean Bassett as the Messenger. A special award for fortitude must go to Gennadi Dubinsky as The King for a faultless performance in a most difficult costume – full armour and helmet. And Alexander Vinogradov turned in a transfixing supporting performance as Ramfis, his well-supported, resonant bass providing a sinister counterpoint to proceedings.
Stefano La Colla was utterly convincing as Radamès with a clear, powerful tenor voice and commanding stage presence. Perhaps there were one or two occasions where I wanted his top notes to bloom just a little further, but it did not detract from the overall quality of his performance. A wonderful role-debut with OA for Mr La Colla and I hope we see him do it many more times as it suits him very well, both vocally and physically.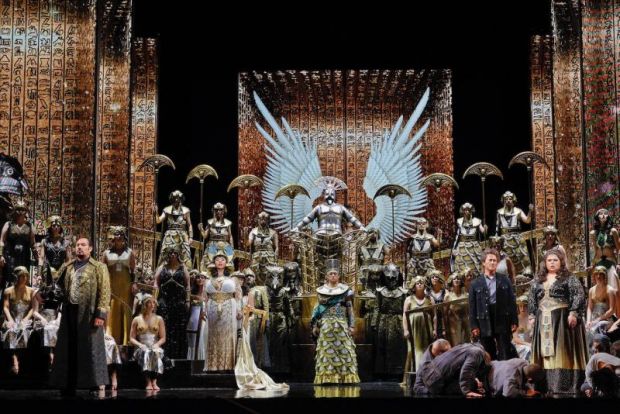 Finally, to the central pairing of the show, Aida herself and Amneris, the casting and chemistry of which has to be just right or the whole show can fall flat. This production was anything but flat. As Amneris, Elena Gabouri used her lush and ringing mezzo soprano voice like a weapon, lashing at Aida with all the hatred her jealousy over Aida's beauty could conjure. Yet she found the gentleness of the character too, sweetly luring Radamès to her and, later, mourning the death of her love. This was a polished and well-balanced performance by Ms Gabouri and well-deserving the plaudits she received.
Leah Crocetto as Aida was a revelation. I took the trouble of listening to some of her other performances prior to attending, but nothing can truly prepare one to hear such stunning vocal control in person. A perfect, sudden pianissimo, deftly deployed in O, Patria mia!, was just one of the many moments that had the audience spellbound. Ms Crocetto's portrayal of Aida's emotional turmoil in Ritorna, vincitor! was likewise a moment I will treasure. With breath control and line worthy of comparison to the likes of Caballe, I'm sure we will see much more of Ms Crocetto in the future. Brava!
Catherine MacCallum
Photographer: Jeff Busby