Aladdin the Pantomime
DAPAK and Kelete Studios. Directed by Kelly Mattravers. Phoenix Theatre, Memorial Hall, Spearwood, WA. Feb 8-9, 2020
Aladdin the Pantomime, presented by DAPAK and Kelete Studios, features a cast of 16 performers who live with disabilities including Autism, Cerebral Palsy and Down Syndrome. A joyous celebration of performing, it is a pleasure to watch.
Simply set at Phoenix Theatre, it is designed for the actors to shine, with a fun adaptation of Aladdin. Some actors have slight speech impediments, so projections by Brody Lawrence provide "side titles" with the dialogue, while Jo Cookson lights up the performers. Sound is provided by Ralph Southall, while stage manager Genevieve Wilson, and a team of volunteers, help make sure that everyone appears at the correct time.
Keaton Howe, as the Lamp Trader, quietly improvised as the audience entered the auditorium, setting the tone for the show. The performance was quite late in starting, so his improvisation extended for a while before opening the show with a bang.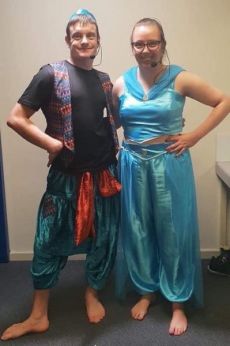 Michael Grey brings bucketloads of personality to the title role, anchoring the show very well. He works well alongside Hannah Bishop, who is a formidable Widow Twanky. Aladdin's little sister Ameera is very nicely acted by Elsie Wade, a young actor with great potential and one to watch.
Callum Presbury, a very familiar face for community theatre goers, and recent Finley nominee, brings a wealth of experience and considerable talent to the role of the Genie of the Lamp, a wonderful boost to the show.
Lovely team work from the Emperor and Empress, Matthew McKie and Katie Hardwick. Matthew brought some lovely comic moments, including hiding behind the Empress' wheelchair when threatened, while Katie had lovely depth of character and is a fine actress.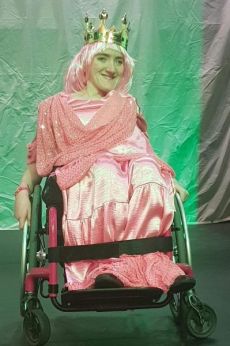 Paige Caudio is a picture perfect Princess Yasmin, working hard in this role. Her initial suitor Leopold, who is frankly not-up-to-scratch, is played by the enthusiastic Luke Cronstedt, who is really too handsome for this role. He is well supported by Craig Aggett as his father, the villainous Grand Vizier.
In supporting roles, Claudia Palandri does a good job as the Sergeant, with Bryon Classen efficient as the serious doctor. A bevy of beautiful handmaidens, including Tonia Allegretta, Chloe Banks, Sarah Buchanan and and Twiggy Bloomfield, complete the cast.
As you may imagine, things didn't always run perfectly, but the "can do" attitude of this cast means that dropped lines and little errors were quickly covered and the support for fellow cast members was a joy to watch. Wonderful to see so many fabulous actors performing in a public setting for the first time. Congratulations to all involved, you deserve every success.
Kimberley Shaw
Read more Fringe World 2020 Reviews - Click Here