Alexandra Flood and Alex Raineri
Presented by Opera Queensland. Opera Queensland Studio. 15 – 16 November, 2019
Opera Queensland's Artistic Director Patrick Nolan has introduced a new series that's become a fast favourite with Brisbane's music aficionados. Set in an intimate studio space, the new opera series allows you to get up close to the performers, with a smaller audience. This allows you to experiencethe power of operatic performance on a level usually only enjoyed by the behind-the-scenes creatives on operatic works.
The series brings together leading Australian and international opera professionals. Its inaugural performance featured Alexandra Flood and Alex Raineri, who investigated and celebrated the artform by performing some of their favourite pieces. The sold-out show was enthusiastically received by the crowd, with the talented Flood and Raineri delivering two encores to the rapt listeners.
Soprano Alexandra Flood is celebrated the world over for her talents. She's been in-demand for leading roles throughout Germany, Austria, and the USA for much of her career, with this event being her Opera Queensland debut. Flood was delighted to be allowed to curate the program with Raineri. When introducing the numbers, you could really sense her deep passion for the works.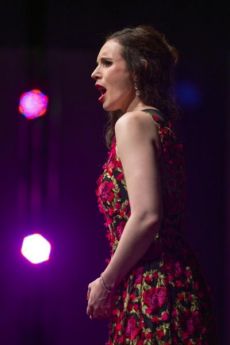 Once she begins to sing, you quickly understand why she's so acclaimed. Not only is her voice angelic, Flood embodies the characters and emotions of the works so skilfully, you don't need to understand the German or Italian librettos. She delivers each number with great control and focus. While very confident in performing, both she and Raineri are beautifully humble in their interactions with the audience.
Raineri's piano playing is outstanding. He too puts great emotion into his interpretations of each piece. He makes what is obviously the result of hours of training and a bucketload of talent look as effortless as breathing. Both performers work extremely well together, almost appearing to have a psychic connection.
The recital had quite a variety of works – some of which having never been performed before in Queensland. The show began with Strauss' Op 17, No 2 Ständchen and Op 48, No 1 Freundliche Vision, followed by Shubert's Schwanengesang D957 1. Liebesbotschaft and Ganymed D544. The duo then presented Italienisches Liederbuch Buch 1 by Hugo Wolf, with Flood's characterisation really coming to the fore in this piece. We then heard a series of six short pieces by Alexander Von Zemlinsky which were scattered far and wide during WWII and have recently been recovered and performed for the first time in Queensland. Next, Dubussy's Nuit D'étoiles was dreamy and romantic, with its lyrics a poem by Théodore de Banville, comparing a lover's eyes to the night sky and stars. Gabriel Fauré's Op 23 Trais Melodies 1 Notre Amour and Franco Alfano's Settle Liriche 7 Venne e mi sedette accanto and 4 Non hai udito I suoi passi delighted the crowd, before the final numbers, Rossini's Soiress Musicales 6 La pastorella dell'Alpi and 8 La danza. These spirited songs were a fabulous demonstration of both performers' skills and filled the studio with an amazing energy.
This series is sure to continue to be a favourite with audiences. It's a wonderful way to experience opera like you've never experienced it before.
Kiesten McCauley
Photos by Pixel Frame