The Aliens
By Annie Baker. Red Stitch Actors Theatre. Director: Nadia Tass. Set Design: Benjamin Shaw. Lighting Design: Stelios Karagiannis. Sound Design: Jarrod Factor. August 24 – September 24, 2011.
As the MTC production of Circle Mirror Transformation heralds for Melbourne audiences the significance of American playwright Annie Barker, Red Stitch further affirm her rich nuanced perceptions in its production or her play The Aliens.
This Red Stitch production directed by Nadia Tass is really good theatre. There is space to contemplate, whilst experiencing and engaging with, aspects of life from the differing perspectives of three unusual, sensitive, and, to varying degrees, disenfranchised young men. Though their circumstances appear compromised by poverty and/or psychological and emotional difficulties, their capacity to engage with, and care about, each other is moving, heartening and inspiring. They appear to truly affect and be affected by one another. All three actors, Brett Cousins, Brett Ludeman and David Harrison, are exceptional.
Set amongst the rubbish bins behind a restaurant, with clunky light changes and realistic sound-scapes, one can almost smell the rotting rubbish and the stale sweat on unwashed clothes and bodies.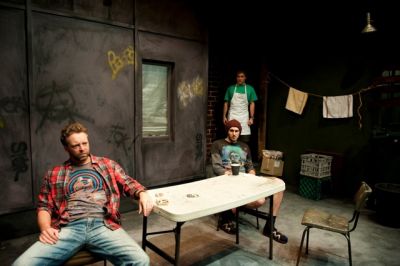 Annie Barker's writing described as hyper-naturalism calls for measured yet completely focused acting. Though the pauses are lengthy, they are very different from the dreary pauses that seemed to dominate in the indulgent realism of the 1980s and 90s.
This contemporary work is deeply satisfying due to the complexity of the characters, the reveals of personality and the curiosity and patience this generates in the audience. We want to know more about these guys who have a flagrant disregard for the conventions of a society that discounts them. In their capacity to survive and care and find joy, one wants to apportion them a heroic status. When Jasper, played by Brett Cousins, reads an exquisite excerpt from his novel and talks of himself as a genius, it is so easy to believe that he has a rising star. Such is the skill of the writer, actor and director.
A must see if you can still get a ticket.
Suzanne Sandow
To keep up with the latest news and reviews at Stage Whispers, click here to like us on Facebook, or follow us on Twitter.