Amadeus
By Peter Shaffer. The Launceston Players. Earl Arts Centre, Launceston (Tas). Director: Jeff Hockley. April 19 – 28, 2012
Amadeus by Peter Shaffer is not a history play of the life of Mozart although it is peopled by many of the grand characters of the time. It is also a way to investigate Shaffer's own creative question: if there is a God, is God acting and caring for us? The ghosts of Salieri and Mozart form the basis for the exposition of that argument, using the audience as the sounding board. A clever ploy, beautifully executed by director Jeff Hockley.
I had seen this play about eleven years ago, with the same lead actor, but could remember very little of it: not surprising, as Shaffer had written no less than six versions of the play.
Ray Sangston, as the spiteful and jealous Antonio Salieiri, and Travis Hennessy, as the charming genius Wolfgang Mozart, treated the audience to an epic battle between innocence and jealousy, genius and mediocrity. Sangston is brilliant as the articulate, urbane and deeply ambitious Salieri. Hennessey gives a wonderful performance as Mozart. Other notable performances were Tracy Ollington (Constanze, Mozart's wife), Christopher Bryg (Joseph 11, Emperor of Austria), Bonnie Harris (Katherina Cavalieri) and David Towns and Matthew Hyde as Venticelli 1 and 11.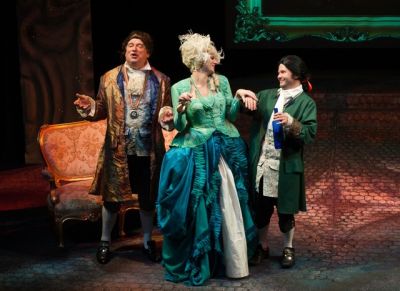 As in all ensemble pieces it is difficult to attribute glory to all of the minor roles, but in this production, with a balanced and more than competent cast, the lead actors were allowed to shine. The huge, intricately carved portal at front stage drew attention to the action. Scene changes were projected on to a series of ornate frames suspended high above the action. Set and scene changes were effected smoothly, allowing the various tableaux of court scenes and private meetings to flow effortlessly.
A major feature of this production was the superb costuming designed by Sonja Hindrum. The costumes were lush, extravagant and beautifully made – 200 costumes for the 21 cast members. Lighting, music and technical effects were also competently handled. The Launceston Players went to great lengths to provide spot-on entertainment, to the delight of an enthralled audience.
Merlene Abbott
Photos by Suzie Hinds