The Amateurs
By Jordan Harrison. Ad Astra, Brisbane. 16 November to 9 December, 2023
The Amateurs is certainly a curious little play – part Medieval Morality, part drama history thesis – a lesson in theatre, from ancient Greek masks and choruses right up to the modernist and absurdist styles perhaps favoured by plaid-shirted hipsters from Brooklyn. That's an in-joke perpetrated on the playwright by the playwright at the play's midway point, when the actors 'break the fourth wall' and become the performers who are portraying the medieval players. The marvellous Greg Scurr becomes a version of Jordan Harrison, the playwright himself – 2015 Pulitzer Prize finalist and screenwriter for Orange is the New Black.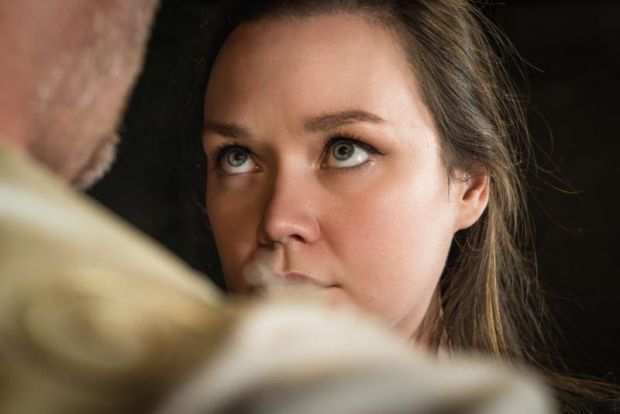 It's a play within a play and – oh look, it is challenging to explain – it would be much easier to see The Amateurs for yourself – because it really is a riot, full of laughs, and full of love for this ill-fated group of amateur theatricals. That is, those from the Middle Ages trying to evade the Plague with enough surviving players to cover every one of 'The Seven Deadly Sins' and tour 'Noah's Ark' across the countryside in search of cushy patronage and a palace to stay in. When 'Noah's wife' (Maddie Armit) starts to question her motivation, you know you are in for an existential theatrical treat. The theatre in-jokes abound, and Susan O'Toole Cridland directs with a fast pace that doesn't detract from the depth of performance possible from her superb cast. This is important because the subject matter also deals with parallels between the plague and the AIDS epidemic in the 1980s, and the threats in this pre-Covid-penned piece are strangely resonant too.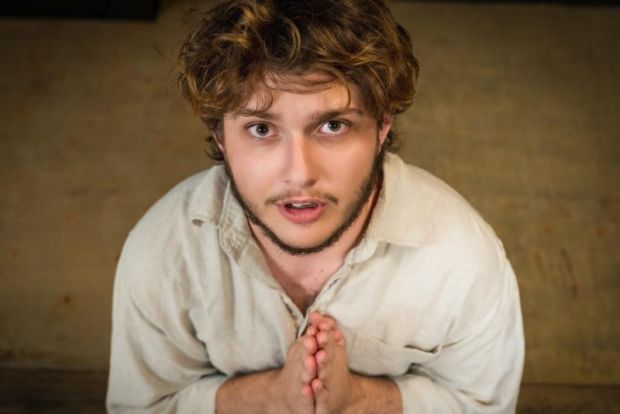 Holding the show together are a top group of performers who are in no way 'amateurs'. As the over-the-top narcissistic 'Director/Actor' Larking, Matthew Filkins fills the stage with egotistical charisma. Larking has cast himself as 'God' (what else?) – and God this is good! As Rona, everyone's favourite 'show-mancer', Lia Davies is superbly sexy, but vulnerable too. The moments of tenderness that Rona allows herself to show with nice-but-dim stage designer, Gregory (Greg Scurr) are completely touching. Greg Scurr also plays the contrasting witty playwright with aplomb – he's a joy to watch. There's more pathos added by Maddie Armit as Hollis, the player who has lost her brother, Henry, to the Black Death. But Maddie is a great comic too. Max Phythian also shows great versatility as Brom – also mourning Henry's death, but for secret reasons – as well as an obnoxious minion whose relaying of the royal review of 'Noah's Ark' is hilarious. As the new stranger in town, the Physic, Isaiah Harrison is warm, funny and charming – and there is just no way we won't see more of him in future productions.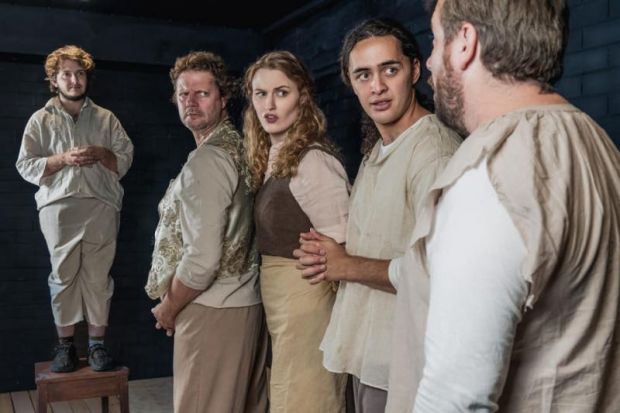 Hats off to the Ad Astra production team: The simple set by Kirsty Van Der Zeil was perfect, including her cinematic scroll for 'Noah's Ark'. I loved the scrappy amateur theatrics costumes by Julia Cox, Lighting and Sound by Russell Jensen (with a brilliant soundtrack of 80s and 90s post-punk with special theme courtesy of Kate Bush's 'Running Up That Hill') – and a gold star for dealing with a technical hitch mid-performance without fluster.
Keep calm and carry on Ad Astra-ing.
Beth Keehn
Images courtesy of Ad Astra
Find out more: www.adastracreativity.com/productions/the-amateurs