American Idiot
Music: Green Day. Lyrics: Billie Joe Armstrong. Book: Billie Joe Armstrong & Michael Mayer. Shake & Stir & QPAC Production. Director: Craig Ilott Musical Director: Glenn Moorhouse, Nik Pringadi Choreographer: Lucas Newland. Playhouse, QPAC, Brisbane. 25 February to 12 March, 2017
American Idiot is the most exciting new rock-opera to appear on a Brisbane stage in over a decade. Shake and Stir's launch into the big-time with this Australian premiere takes musical theatre on a blistering no-holds-barred journey that's visceral and anarchic.
Based on the chart-topping 2004 political pop-punk album of Green Day that ranted against the establishment and the death of the American dream post 9/11, the show scorched its way onto Broadway in 2010 and ran for a year. It's since played gigs in London and around the world and comes to Australia in an updated version. Whereas the original was conceived in the George Bush era this version uses Donald Trump as its whipping boy.
The show feels like a close cousin to Spring Awakening and considering its co-book writer Michael Mayer also steered that musical to success it's not surprising it shares many similarities in its concept.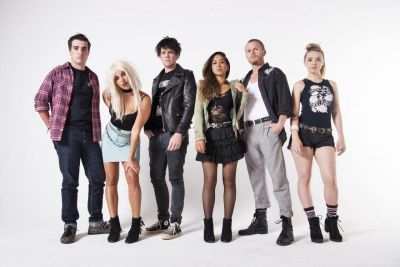 On Josh McIntosh's industrial warehouse-type set dotted with TV screens and graffiti, and with a cast dressed by Melanie Knight in urban grunge, we're introduced to a trio of disillusioned young men eager to escape suburbia and their meaningless lives.
Cameron Macdonald's Tunny is seduced by an Army recruiting commercial and joins up to fight in the Middle East, Alex Jeans' Will is all set to split when he discovers he's knocked up his girlfriend and stays put becoming a couch-potato watching endless TV repeats and smoking dope. Ben Bennett's Johnny, the main focus of the show, moves to the city and becomes addicted to sex and drugs courtesy of malevolent pusher St Jimmy, in this performance played by The Living End front-man Chris Cheney.
Tales of teenage angst are nothing new and this one traverses all of the familiar genre conventions (drugs, sex and rock 'n' roll), but it's the sensational music that gives this production the vibe and energy of a rock gig. The raucous title song ("Don't wanna be American Idiot/Don't wanna nation under the new media"), is a manic melt-down opener, "Favorite Son" slots perfectly into the Army recruitment sequence, whilst the melancholic "Wake Me When September Ends" adds poignancy. The album's runaway hit "Boulevard of Broken Dreams" says it all about the mistakes we all make on the road to self-discovery.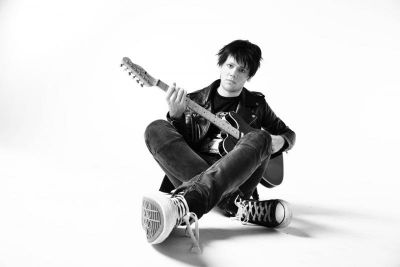 Although it's the boy's story, the girls make their mark with various vignettes - Ashleigh Barlow as the pregnant Heather, Phoebe Panaretos as the city "Whatshernam" and Rowena Vilar doing amazing aerial somersaults and vocals.
Craig Ilott's affinity with the material results in razor-sharp direction, while choreographer Lucas Newland's moves illuminate the text every step of the way. Lighting (Matthew Marshall), video (Optikal Bloc) and sound (John Taylor) share the accolades as do the rock musicians under Glen Moorhouse and Nik Pringadi's direction.
Shake and Stir have not only punched well above their weight with this production they've raised the bar for rock musical theatre.
Peter Pinne
Note:Grinspoon front-man Phil Jamieson plays St Jimmy from 28 February.
Photographer: Dylan Evans