An American In Paris
Music: George Gershwin. Lyrics: Ira Gershwin. Book: Craig Lucas. GWB Entertainment & The Australian Ballet. Director & Choreographer: Christopher Wheeldon. Musical Director: Vanessa Scammell. Lyric Theatre, QPAC. 17-30 January 2022
How do you turn a seven Academy Award-winner musical movie, with a paper-thin plot, into a dazzling show-stopping stage musical? The answer is currently on stage at the Lyric Theatre, where Christopher Wheeldon, and his partner in crime, set and costume designer Bob Crowley, have produced the most delightful homage to the original 1951 MGM musical.
This is a dance musical like no other (West Side Story take a back seat), requiring not only triple-threat musical theatre performers but performers who are skilled in classical ballet, and this company come through in spades and provide an evening filled with the most marvelous joire de vive.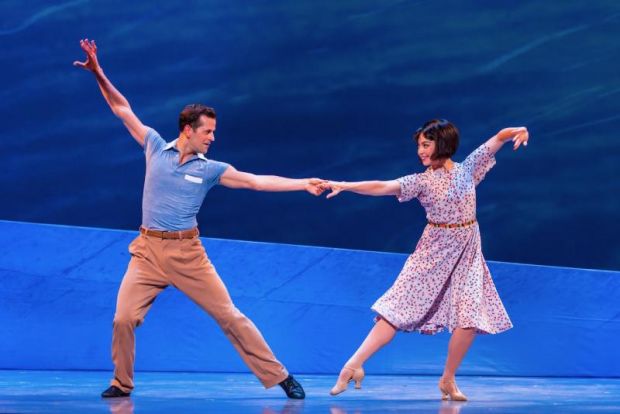 New York City Ballet principal dancer Robbie Fairchild is the ex GI, Jerry, who decides to stay in Paris following the Nazi occupation's downfall. He's a painter, who gets involved with the 'art scene' and falls for Lise, or as he calls her Liza (cue for a song). Lise is played by Leanne Cope of London's Royal Ballet. Both created the roles on Broadway and in the West End, and they're perfect. She's enchanting and he's the ultimate 'Prince.' Their coupling is exhilarating and their solo work dreamily precise. What's more they can both sing and act.
Writer Craig Lucas' decision to 'age the show backwards' from 1950 until the end of the war was inspired. Paris was a different city then. There were still signs of the Nazis, reflected in the opening with swastikas, and in Crowley's haunting set-pieces of a city just coming out of the darkness, helped by Natasha Katz's moody and eloquent lighting.
59 projections are stunningly effective throughout, especially washing the stage with 'avant-garde' style geometric shapes of Picasso in the eponymous title ballet.
Apart from Jerry, Lise also attracts the attention of composer Adam (Jonathan Hickey), and closeted would-be nightclub performer Henri (Sam Ward). The thin romantic plot has been strengthened with Henri having a back-story as a resistance fighter, and Adam, nursing a leg war-wound.
Henri's fantasy of singing at Radio City is brilliantly realized in the splashy, feathers and sequins showgirl routine 'I'll Build a Stairway To Paradise', which morphed from a a comic send-up of 'The Eclipse of Uranus Dance' a parody of 1940s 'arty' ballet tropes.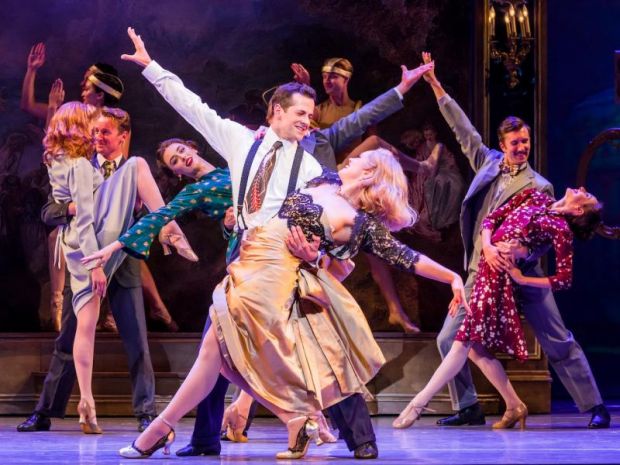 Lise is now a budding ballerina, and rich American patron, Milo (Ashley Rubenach) is financing the ballet that Adam is writing and Lise will appear in. Milo's couture is more 50s than 40s, but she wears it well and sings a lively 'Shall We Dance', whilst Henri's mother, the stitched-up Madame Baurel (last night played by Helen Howard), nicely gave more than a hint there could be more to the character behind the bourgeois pretension.
The 14-minute title ballet did not disappoint, with the Australian Ballet corps coming into their own in some colorful and electrifying sequences of dance, with Fairchild and Cope finding exquisite romance in their pas de deux finale.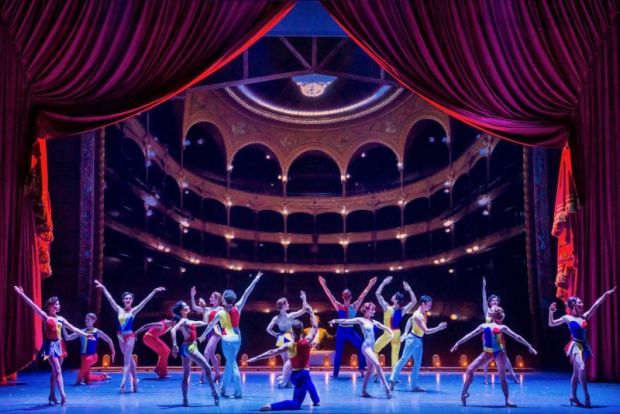 The familiar Gershwin tunes, with their iconic 'blue-notes', sounded robust and sweet under Vanessa Scammell's musical direction. Musical theatre gems don't often shine as brightly as this. It's a five-star diamond!
Peter Pinne
Note: The principal roles have been double-cast with Australian Ballet performers and at some performances Jerry is played by Cameron Holmes, with Lise played by Dimity Azoury.
Photographer: Darren Thomas