American Pyscho
Book by Roberto Aguirre-Sacasa. Music and lyrics by Duncan Sheik, with classic '80s hits from Phil Collins, Tears for Fears, New Order and Huey Lewis and the News. BB-Arts Entertainment & Two Doors Productions. Playhouse, Sydney Opera House. June 8 – 27, 2021
Stephen Sondheim surprised us when he wrote a musical called Assassins and another about a murderous barber, Sweeney Todd. American Pyscho is far darker.
It's based on Bret Easton Ellis' 1991 horrific tale of a privileged narcissistic Wall Street success who turns to serial killing in an attempt to feel something. The 2000 film and this thriller musical version hold back a touch on Ellis' blood and gore, throwing the switch to high camp satire and laughter.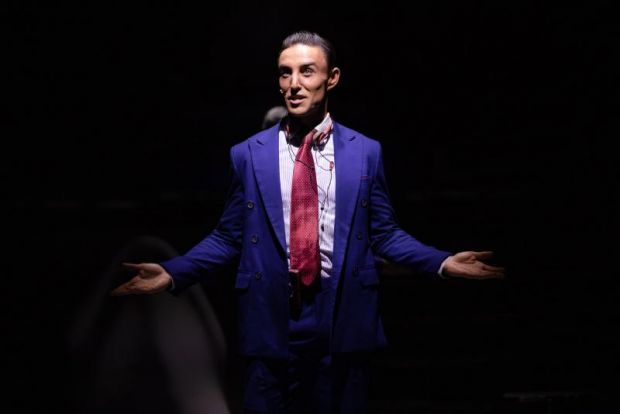 And what an hilariously hideous world of brand materialism and competition, hyper capitalism, envy and self-obsession it is, a world born in the 1980's and with us still – with not a heartbeat of empathy.
Centrestage in this welcome return of the Hayes Theatre production is Ben Gerrard as the charismatic, oily, Teflon-perfect Patrick Bateman, for which he won one of the show's nine Sydney Theatre Awards in 2019. You can't take your eyes off him.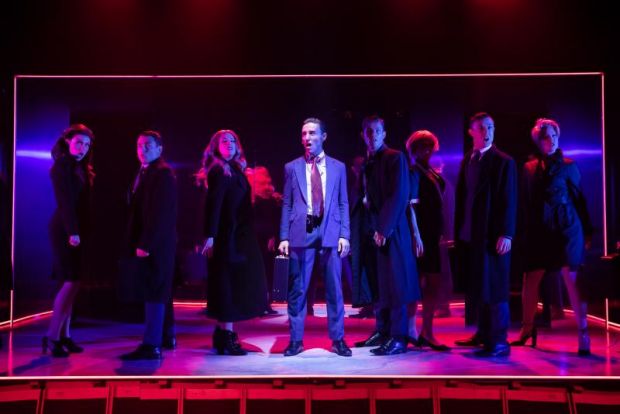 The confronting intimacy of the Hayes original is still there, as Bateman and his fellow buffed boys and sassy girls strut through an endlessly revolving set (Isabel Hudson). Mirrored partitions outlined in red neon appropriately reflect back their vanities (and ours in the audience!).
Mason Browne's vibrant costumes, whether corporate, clubbing or beachwear, artfully suggest both the fashion silhouettes and colours of the 80's and our own time. The programmed score from America's Duncan Sheik (music director Peter Warboys) is house and electronic, pounding beats mixed with some dated favs from Phil Collins and Tears for Fears.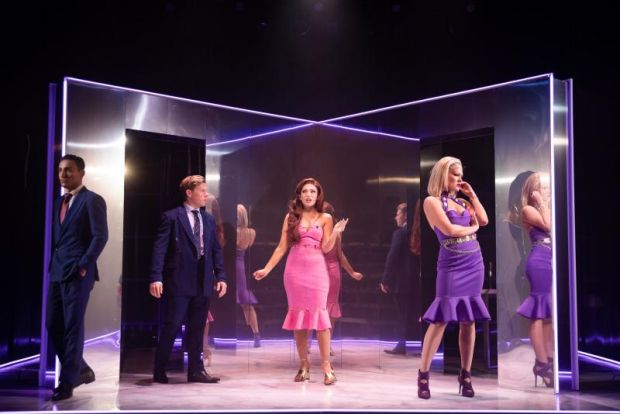 And it's loud, too loud to hear most of Sheik's lyrics but it does fire the up endless revolving stage revolve, the sexual extravagance and witty tableaus, and Yvette Lee's thrilling choreography. And given the wide bite of this satire, Roberto Aguire-Sacasa's cinematic narrative keeps it spinning.
It's a faultless Triple Threat cast with even Shannon Dooley's mad physical comedy as Bateman's fiancée not out of place, and Angelique Cassimatis true as his secretary and the only one nice. And Jason Winston commands as Bateman's workplace rival – and victim.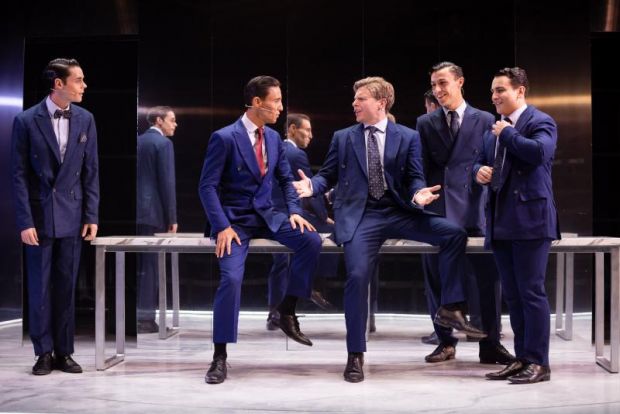 And as the bodies build, so we go ever darker into the madness of Bateman, ending with a tease if not with justice. Expertly timed, paced and directed by Alexander Berlage, I loved it.
Martin Portus
Photographer: Daniel Boud