ANAM and Musica Viva National Tour
Musica Viva presents pianist Konstantin Shamray and the ANAM Orchestra led by Sophie Rowell with violinist Harry Ward. Elisabeth Murdoch Hall, Melbourne Recital Centre. April 27, 2021 followed by National Tour.
The Australian National Academy of Music (ANAM) is dedicated to training the most exceptional young musicians from Australia and NZ. It is the only professional performance training institute of its kind in Australia, and one of few in the world. This performance featured a twenty-one piece string orchestra under the direction of renowned violinist and MSO concertmaster Sophie Rowell. The group of young, vibrant and independently thinking musicians worked as a tightknit team. Although it was a difficult program, the players didn't show any let-up in their energy, skill or enthusiasm, being in the moment at all times, their instruments almost an extension of themselves.
The first half featured Russian born, Australia based, pianist Konstantin Shamray performing the delightful 'Piano Quartet in A minor', composed by a 15 year old Gustav Mahler. Symbolising 'the unconscious anticipation of things to come' this incomplete work only turned up half a century after Mahler's death among papers discovered by his widow Alma. From the opening phrases the audience was entranced by the gentle beauty of Shamray's tender approach on the piano and the melancholic mood created by the strings. I was reduced to tears and had goosebumps for its duration. The simplistic melody (but by no means juvenile) has been given a new, elegant arrangement by violinist and arranger Harry Ward.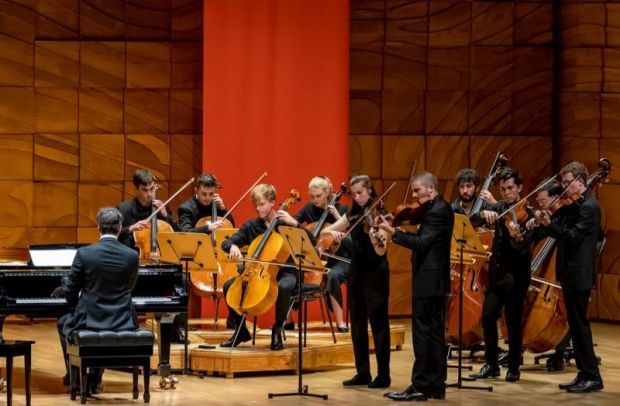 Shamray next performed Alfred Schnittke's 'Concerto for Piano and Strings'. A rarely heard work, this one movement concerto highlighted Konstantin's flawless technique and indomitable mastery of the piano. At the height of polystylism, in Schnittke's own words, the aim is to 'unify serious music and light music'. Not for the faint hearted, this 29 minute cacophony included such styles as chorale, waltz and quasi-jazz improvisation. Despite the raucous mid-section, it began and ended with simple, beautiful bars of modern classical music allowing my blood pressure to stabilise.
The second half of the program began with Mihkel Kerem's 'Lamento for Solo Violin and String Orchestra' with Harry Ward taking centre stage as soloist performing on his 1780 Landolfi violin. This arrangement was written especially for Musica Viva in response to a request from Artistic Director Paul Kildea, when every day last summer felt like going deeper into darkness. Kerem's vision is "that the sound of the solo violin helps us reflect on the past year and gives us hope for a brighter future". Ward's effortless rendition satisfied that request to perfection.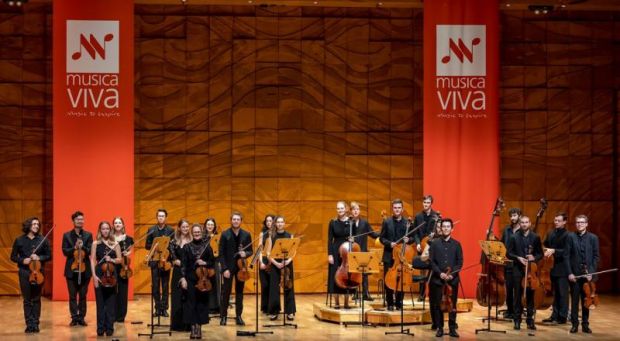 The night ended with Tchaikovsky's 'Serenade for Strings', which was a crowd favourite. The orchestra reached fever pitch in the fourth movement with its wild strumming and duelling semiquavers before returning to the Andante theme from the first movement. A rapturous audience showed their appreciation on what was clearly a wonderful night of both old treasures and newly found gems. Bravissimo indeed!
Jonathan Cox
Photographer: James Grant