Angela's Kitchen
By Paul Capsis and Julian Meyrick. Griffin Theatre Company. SBW Stables Theatre. May 15 – June 19, 2012.
After its successful debut in November 2010, Griffin Theatre has restaged Paul Capsis' one man show Angela's Kitchen and it is obvious why.
This is a beautifully drawn homage to Capsis' grandmother and his Maltese heritage. There is no doubt that Capsis is an extremely talented performer, but what is so refreshing about this production is that the audience are allowed to know his story. We are given an insight into how he became the person he is, the challenges he has known and the simple pleasures he experienced growing up in a very big multi-cultural family.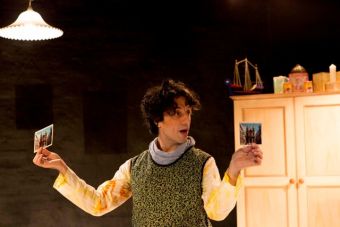 Despite being a single actor performance Capsis effortlessly swings from character to character painting a detailed picture of his family both in Malta and here in Australia. He also gives an incredibly interesting overview of Maltese history - who knew that during World War II Malta was the single most bombed place on earth.
Julian Meyrick's direction is innovative, detailed and clear and puts Capsis' talent to use in the best possible way. Louise McCarthy's overall design is exceptionally clever, with a set that at once can be a kitchen, a bingo hall and the landscapes of Malta.
This is a poignant story, rich with the hallmarks of family. It's an evocative piece, filled with humour and bittersweet sadness which touches your heart and triggers your own memories of family both past and present.
Whitney Fitzsimmons
Photographer: Brett Boardman.