Animal Farm
Shake & Stir's adaptation of George Orwell's Animal Farm. Cremorne Theatre, QPAC. 23 Aug – 2 Sept 2011.
For students and teachers of Animal Farm this production is solid gold. A general public audience may find it less engaging because of the connecting narrations.
Caps off to Nick Skubij, listed as 'the adaptor,' and the company improvisations that obviously informed rehearsals under director and dramaturg, multi-awarded Michael Futcher.
In singlets, black jeans and boots the cast managed to portray their characters clearly with sounds and simple typical animal actions.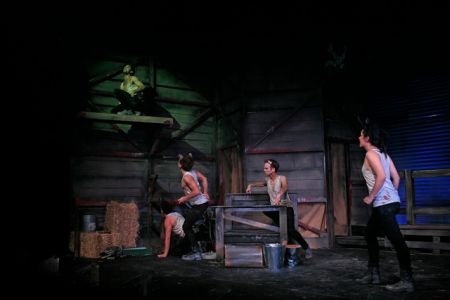 I was at a full-house matinee with a mixture of private and state school students. "All animals are equal, but some are more equal than others" could not have been better exemplified than that audience mix.
They settled right from the opening (Old Major's big idealistic speech – Bryan Proberts, a persuasive leader; and after Major's death, a conniving, slippery, master of political spin as Squealer). Fast action, a muddy, practical set (Josh McIntosh) and impressive lighting effects (Jason Glenwright) and sound (Guy Webster) kept them riveted throughout the 90 minute performance.
Skubij's dictator-pig, Napoleon, was disturbingly like many dominant world leaders from recent history.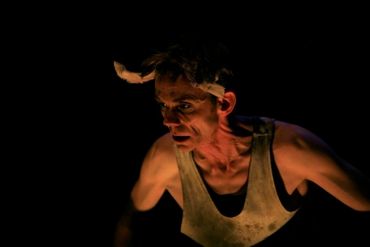 Ross Balbuziente's ever-willing and slow Boxer was particularly impressive. As ever Dan Crestani's dance training was evident in his characterisations: Snowball, the pig too bright for his own good; and wise old donkey, Benjamin.
Nelle Lee as Mollie (Mr Jones's pre-revolution cart horse) typified the indulged middle class; and later she played Clover (Boxer's friend).
Their target audiences are already filling the shows. And rightly so!
Jay McKee
Photographer: Justine Walpole
To keep up with the latest news and reviews at Stage Whispers, click here to like us on Facebook, or follow us on Twitter.