Animal Farm
By George Orwell, adapted by Saro Lusty-Cavallari. New Theatre (NSW). Oct 13 - Nov 7, 2020.
With mainstage theatres serving up small cast COVID friendly productions, the New Theatre currently has the 'biggest play' on stage in all of Sydney.
This production felt generous in many respects. It almost felt lavish seeing 15 people on stage in front of an audience (under 44) spread around the New Theatre, as allowed by current regulations.
The play was enveloped by an impressive frame of a barn – designed by Carmody Nicol – which incorporated a 'blackboard', allowing for slogans to be written and updated as the drama progressed.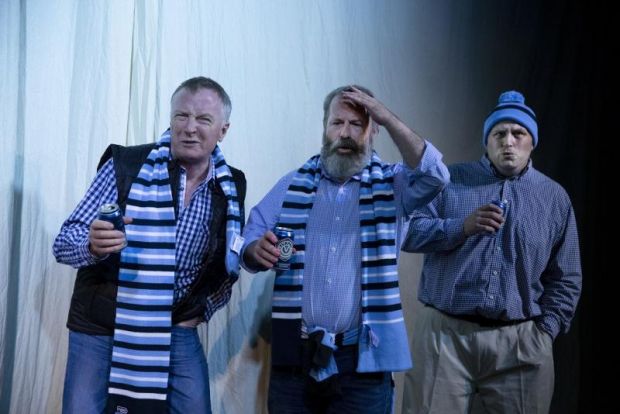 In between each scene, a laser like outline illustration of the title of the chapter, and caricature of an animal would ripple across the closed curtain, neatly co-ordinated by lighting designer Rhys Mendham and sound designer Jaymes Julian Wilson.
Costumes designed by Claudia Mirabello were suitably frugal, with the species of the animal indicated by a symbol on their overalls.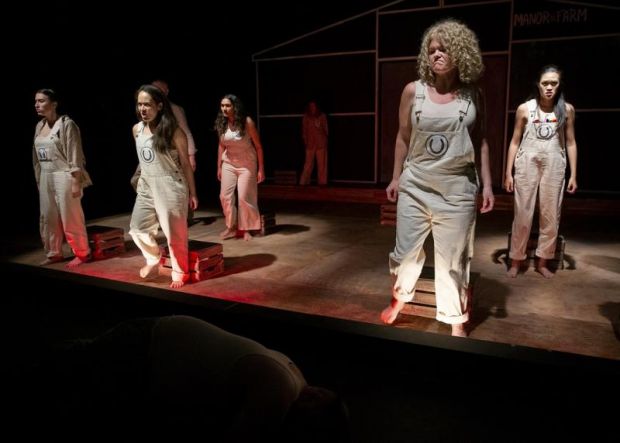 In his program notes, director and adaptor Saro Lusty-Cavallari points out that George Orwell surreptitiously slipped into classrooms across the western world an explanation of Marxist labour theory. This comes in the opening speech of the wise old boar, whose critique of humans lording it over animals is a neat parallel for Marxist critique of capital over labour.
This speech (pardon the pun) was slightly laboured and, accompanied by static staging, tested my patience a fraction, having not attended an actual theatre in months.
However, thereafter the action and movement proceeded at a very satisfying rapid clip.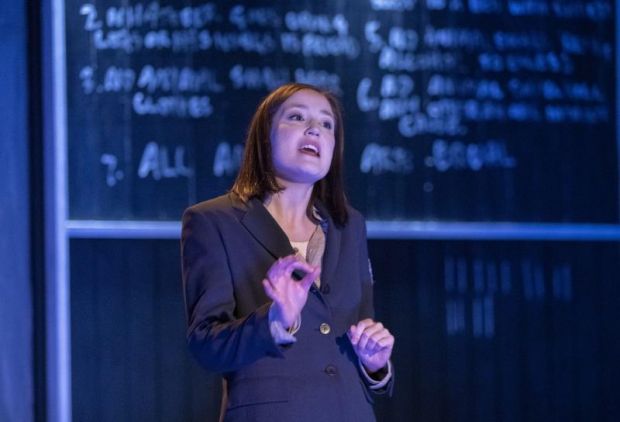 Animal Farm was written as a political satire of the Soviet Union and how revolutions can go wrong. Lusty-Cavallari very wisely resisted the urge for a major update, instead seamlessly sprinkling a few contemporary references into the narrative.
The original text stands the test of time – allowing audiences to draw their own parallels with contemporary political figures. The director compares Snowball (Lachlan Stevenson) - written by Orwell as a character to resemble Leon Trotsky - to Bill Shorten being muddled by policy detail. This is safely left as a note in the program rather than distorting the narrative.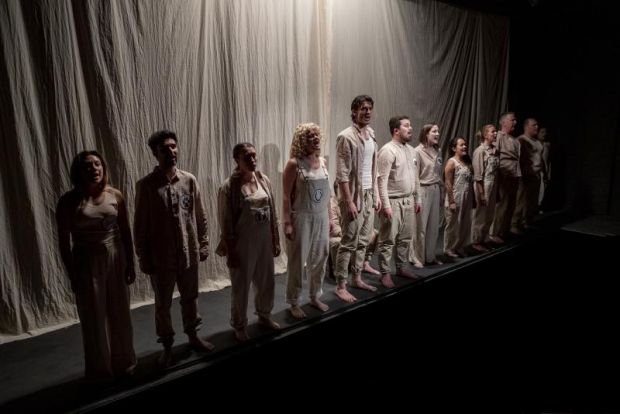 The production had a strong ensemble with striking performances by Zoe Crawford as Squealer, the spokesman for the tyrant, and Laura Djanegara as the workhorse Boxer.
It was an engaging night in the theatre and highly recommended for both theatre starved aficionados and students studying the text in High School.
David Spicer
Photographer: Bob Seary