Animal Farm
By Van Badham. Black Swan State Theatre Company. Directed by Emily McLean. Heath Ledger Theatre, State Theatre Centre of WA, Perth Cultural Centre, WA. Oct 2-24, 2021
Black Swan State Theatre Company's Animal Farm is a fresh modern examination of George Orwell's classic 1944 novella, which blends the original themes of politics, power and corruption, with 2021 technology, social media and the 24 hour news cycle. Performed by just three superb performers, it will appeal to people familiar with the original story, as well as those new to this famous allegory.
Originally slated to perform shortly before the 2020 American Presidential election, there are obvious references to the behaviour of Donald Trump. "Make Animal Farm Great" resonates strongly throughout, but this is a story about corruption, selfishness and bias in leadership in general - and the commentary originally levelled at Russian communism falls just as squarely against Trump, or North Korea and perhaps closer to home.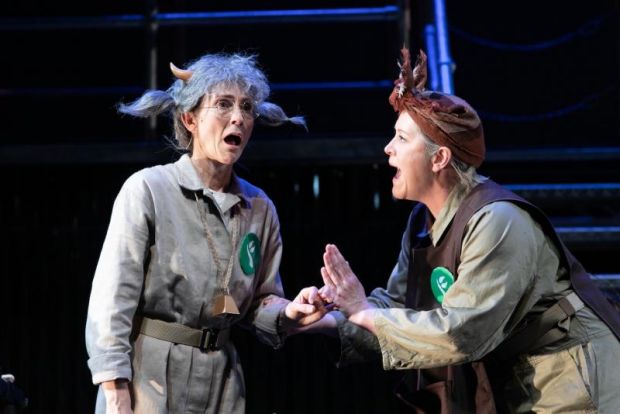 Set and costume designer Fiona Bruce gives us a highly industrialised set, that evokes memories of stark, cold animal pens, and is dominated by a huge screen - an important part of the staging and styling. Fiona Bruce has fun with the dozens of costumes; a military inspired 'under-costume' overdressed with some delightful accoutrements to create dozens of animal and human characters.
This version of Animal Farm narrates and comments on the events at the farm via news reports broadcast on screen. The broadcasts star the same three actors - with the pre-recording expertly executed under the direction of Emily McLean and video designer Michael Carmody. The switching between screen and stage is highly effective and itself a strong commentary on the way we view the world.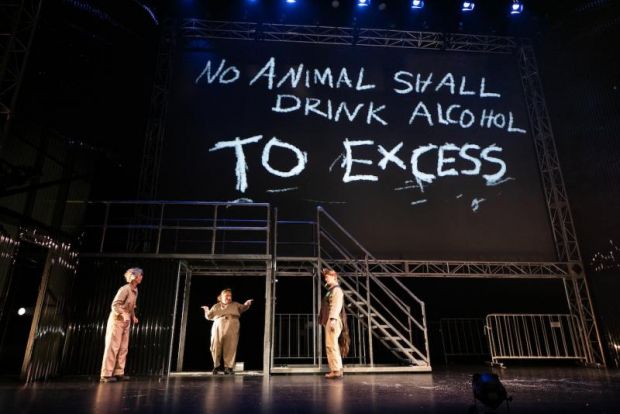 The three actors do an awesome job, in what must feel like a marathon performance with each actor performing 5 or 6 characters on stage, having pre-recorded another 10-12 characters on video. The characters are clever, distinct and very quickly established. Among Andrea Gibbs' many characters, she brings maturity and authority to Old Major, the fervour of a young revolutionary to Snowball, confusion, resignation and love to motherly horse Clover and appropriate and loveable indignation to Brenda the Chicken. Megan Wilding brings a quiet pessimism and excellent overview as Benjamin the Donkey, brings a lovely parody of current events television hosts as Well Dressed Woman and shows us a wonderful transformation as Squealer the Pig. Alison Van Reeken is outstanding as 'ditzy blonde' Mollie the Horse (perhaps the wisest of all), embodies evil as Napoleon and is beautifully sympathetic as confused goat Muriel.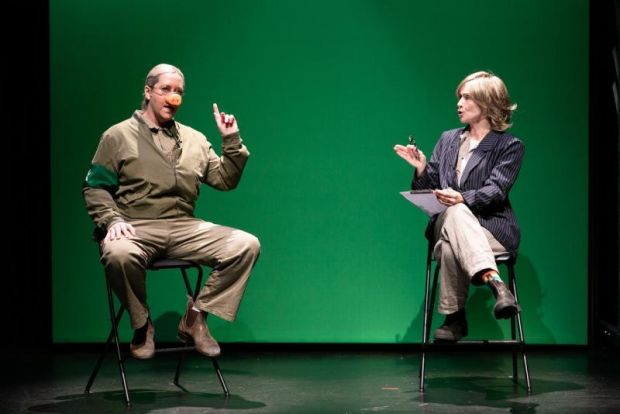 Black Swan's Animal Farm is a cleverly adapted, very well executed and expertly performed version of Orwell's story, that proves that this story still has much to say.
Kimberley Shaw
Photographer: Daniel J. Grant