At Any Cost?
By David Williamson & Mohamed Khadra. Ensemble Theatre, Sydney. Director: Sandra Bates. 15 July – 27 August, 2011. Q Theatre, Penrith – September 6 – 10, 2011.
With his monolithic oeuvre casting its giant shadow over Australian theatre, one wonders what David Williamson could possibly have left to say about family dynamics, class, bigotry, morality, deception, power and influence. Plenty, it seems. In his latest offering, he holds a mirror up to the Baby Boomer generation and the struggles many now confront, being the children of elderly, chronically ailing parents. The excruciating judgement calls relating directly to 'quality of life' in human terms, are juxtaposed with the cold, hard facts regarding the practicality of maintaining the embers of an individual's life (long after their fire has gone) and the burden this places on our struggling health system. This was achieved brilliantly thanks to Williamson's collaboration with Mohamed Khadra, Professor of Surgery at the University of Sydney.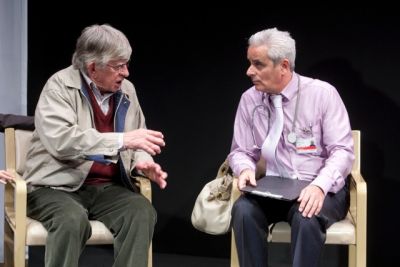 In this all-too-familiar fight over life and death, we find, in the blue corner, a typical Aussie family. Dad (Martin Vaughan) and his three offspring, struggle to decide whether to allow his beloved wife/their mother to be taken off life support. The Big Questions relating to 'quality of life' suddenly take on a multitude of permutations, as we discover the various contrasting circumstances of each family member. For instance, the smug, financially successful eldest daughter (Kate Raison) has simultaneously borne the life-long pain of a secret childhood trauma, while her sister (Tracy Mann) has always 'struggled' financially (by upper class standards) in order to maintain a noble existence as a legal aid lawyer – albeit begrudgingly. Meanwhile, their brother (Tyler Coppin) is saddled with the burden of being the favourite – which has afforded him a financially cushy passage through life, while sapping his self-respect. Interspersed with the family squabbles and revelations, Professor Ali Sharif (Daniel Mitchell) emerges from the red corner, to lecture the audience on the staggering monetary statistics relating to palliative care.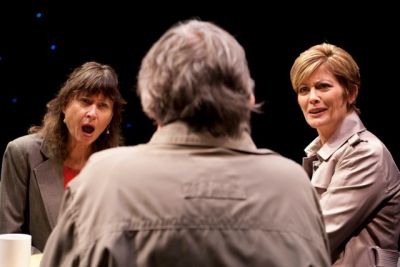 The seamless efficiency and polish of this production are a fitting tribute to this lean, but densely conceptualised script. With neither a surplus word, nor any hint of over-wrought drama – it still manages to slice straight through the fat and muscle of the superficial and tug mercilessly at the heart-strings. This is due in no small way to an exquisite performance from Vaughan – as the tormented dad. While this family are essentially well-to-do, every character of the piece is universally relatable, whether you're from Kirribilli or Cootamundra. Daniel Mitchell (last seen by this reviewer as Charlie Babbit in Rain Man) never fails to impress as a character actor. In his portrayal of the forthright, supremely knowledgeable but decidedly world-weary medical professional, he seemed to channel Anthony Hopkins. At the risk of gushing, this is a bare-bone, absolutely absorbing piece of theatre, where (thanks to deceptively simple design and thoughtful direction) words and body-language combine to hit their mark unimpeded. The play casts no judgements on its weighty issues, offers no solutions, but gives its audience plenty to dissect long after lights out.
Bravo.
Rose Cooper
Images: (Top) Kate Raison, Tyler Coppin, Martin Vaughan and Daniel Mitchell, (Middle) Martin Vaughan and Daniel Mitchell, (Lower) Tracy Mann, Martin Vaughan and Kate Raison. Photographer: Steve Lunam.
To keep up with the latest news and reviews at Stage Whispers, click here to like us on Facebook, or follow us on Twitter.