Anything Goes
Music and lyrics by Cole Porter. MUSE – The Sydney University Musical Theatre Ensemble. Everest Theatre, Seymour Centre. March 26 – 29, 2014.
While Cole Porter's classic songs are the enduring stars of fun but flimsy musical comedy Anything Goes, the choreography of this student production at Sydney University is the standout.
I'm not dismissing the many good individual performances, but the great delight of this show is that talented young choreographer Georgina Spong creates lively movement-based routines with a diverse ensemble of mostly non-dancers where, in numbers like 'Blow Gabriel Blow' and title song 'Anything Goes', shapes, patterns, and sheer variety of activity flow continuously, building in intensity to big finishes. Then there's the wit and panache she brings to smaller routines, notably 'The Gypsy in Me'.
MUSE has assembled the sort of male ensemble most community theatres would kill for, and these boys respond splendidly to Ms Spong's creativity, culminating in their kick-ass late-show kick-line climax to 'Buddy Beware', a show-stopper for all the right reasons.
While there's some stand-out dancers in this company, everyone's confident and clearly having a ball with movements tailored to a range of individual skill levels, within eye-catching big pictures.
Anything Goes sets your basic boy-meets-girl plot on an ocean liner, padded out with a series of romantic complications and comic turns, with a triple wedding finale. That's enough of plot.
I'd love MUSE to find a creative shoestring-budget designer, though. Sets for this no frills Anything Goes are rudimentary, but they do sufficient to establish that the setting is the deck of a ship, while insets suggesting ship cabins and the brig (walls are flimsy, though, and better synchronization of off-stage door-knocks was needed).
Early on, first night nerves seemed to cause some rushing of lines, though this settled as the cast relaxed.
Not a problem for Natasha Stanton though, bringing a mischievous sultry personality, comic skills and confident vocals to the show's star turn, cabaret evangelist Reno Sweeney. While she's shone in featured roles in previous MUSE shows I've seen over the last year, Ms Stanton really stamps her mark on this production.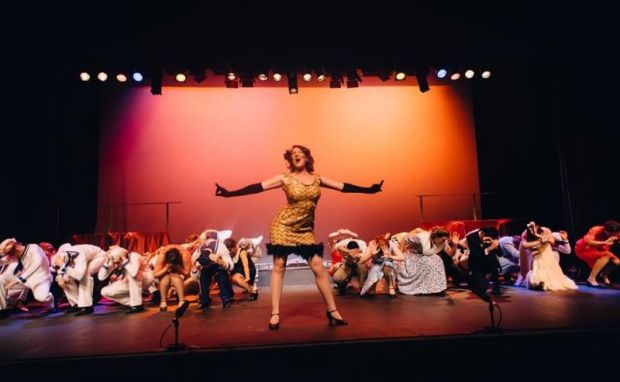 Liam Beiglari brings splendid timing and physical comedy to Public Enemy Number 13, Moonface Martin. Alex Andrews effectively harvests the humour from the role of eccentric Britisher Lord Evelyn Oakley, with the previously mentioned 'The Gypsy in Me' a genuine highlight. Anna Colless vamps the role of archetypal gangster's moll Erma cheekily and engagingly.
Genevieve De Souza is sweet and attractive as romantic lead Hope Harcourt, landing her songs attractively. Settling in after early nervousness as leading man Billy, Ant Sandler strikes a healthy balance between the intensity and parody of the role.
In the autumn romance sub-plot, both Hope's mother Evangeline and Billy's boss Whitney clearly belong to the same age bracket as the youngsters. You accept Sarah Gaul's poise, dignity and stuffiness as socialite Evangeline, though she looks more like daughter's sister, while Jordan Shea makes the permanently drunken Whitney a broadly physicalized caricature, inspired by the relentless vaudeville shtick of the script.
Smaller roles provide good support throughout. There's Josh Chee and Lawrence Humblet's Chinese converts Luke and John, Aidan Kane's campy Purser, Isaac Carroll's Captain, four fetching Angels, plus probably the best sailor's quartet I've seen in any amateur production.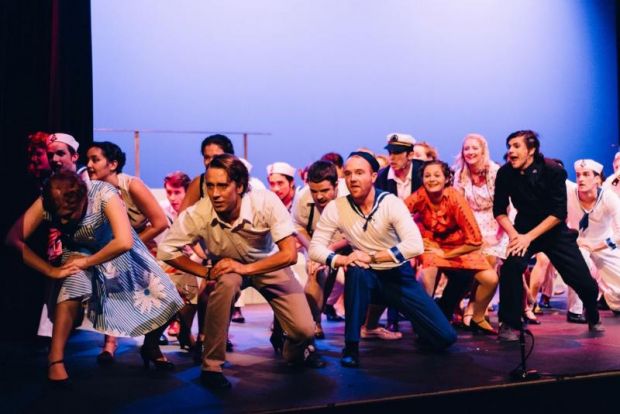 Some productions of Anything Goes misfire with the vaudeville timing and nuance of the script and its antique gags, so what a delight that this young cast get it, and generally land the old genre's comedy so snappily. Compliments there to director Gavin Brown, who strives to keep the whole night bright and pacy.
Musically, Josh Davies keeps everything together well, though at moments in the Porter overture and other instrumentals the balance of the sound mix feels in need of adjustment.
Many stage and screen greats might well have become engineers, lawyers or doctors if not seduced by the greasepaint of university productions and revues. Other participants continued on our intended career pathss as teachers (in my case), in medicine or law, even becoming national leaders from time-to-time, with lifelong memories of that unique onstage across-the-disciplines camaraderie.
It's just plain refreshing to head along to a MUSE production, mixing in an audience brimming with Uni students, delighting in enthusiastic performances by their peers, in musicals they've mostly never seen or heard of before.
Neil Litchfield