The Appleton Ladies' Potato Race
By Melanie Tait. State Theatre Company SA. Royalty Theatre. June 4-19, 2021
Whilst you could be forgiven for assuming that this is the name of a polite English comedy, it is, in fact, a 90 minute play that has at its heart, a real race held annually in the Australian country town of Robertson in New South Wales. Starting in 1913, the race was exclusively for men until the scandalous appearance, in 1988 (in our story), of cleverly disguised Alexander Strumpet who opened the floodgates to women. Not completely a victory for women, the author, in real life, and the play's characters grapple differently with the issue of unequal prize money and ultimately, the deeper issues that still face women today.
Directed by Elena Carapetis, the play is based on the experiences and feelings of author Melanie Tait when she went back to her hometown for the revered, legend making race. It is a warm, funny, and energetic romp, featuring five very different women who come together and change history in this 'typical' country town. At the heart of every country town are its essential service providers, and in this story it is Dr. Penny Anderson, a returning hometown girl, who also happens to be lesbian, played very passionately and ably by Anna Steen who bravely and doggedly mounts a challenge to the status quo in a town where from childhood, she has been less than welcome. The door knocking scene is a joy as we watch her in action.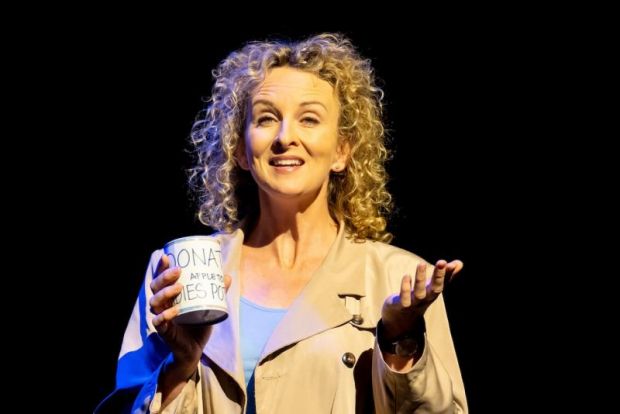 The 'dark horse' in the story is Barb, who initially appears excited and unswervingly cheerful about everything. Played by Genevieve Mooy, who in portraying the 'Australian upward inflection', continually uses the upper register in the early scenes, and for me, this makes her difficult to listen and relate to. Barb is widely loved and is credited with helping to raise Penny, and cousin Nikki, who is the womens' race favourite , played with energy, confidence and style by Sarah Brokensha (her commentary and lively rugby spectating scene is worth the cost of the ticket). At the age of 32, Barb discovered that she could not have children and her reflection on how marginalized she felt in a small town was beautifully and sensitively drawn. Her role in making steps forward for women is significant in this story and it would be a spoiler to reveal more.
Bev is played with aplomb and well developed characterization by Carmel Johnson. She is Barb's friend and she is the 'salt of the earth', but is taciturn and simmers with personal anguish and anger at what life has dealt her. She is ill, overburdened, and in denial, but is the main organizer of the Potato Race.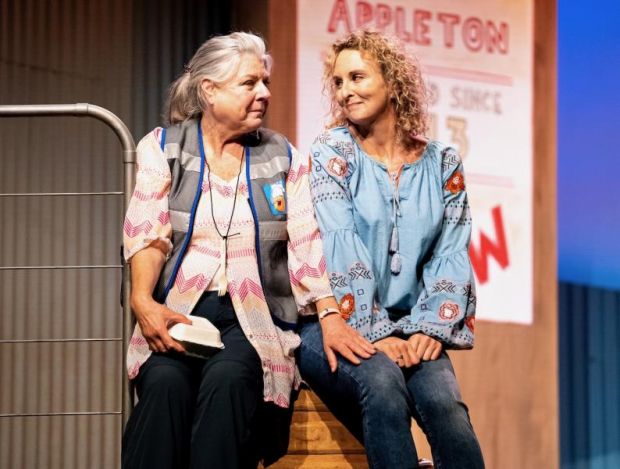 New to the town, we have Rania, played sensitively and perceptively by Susie Youssef, who refers to herself as the 'token' multi-cultural element in the town. She has developed a strong friendship with Nikki, and Rania is gradually helping the townspeople understand other cultures and religions. She is a woman of courage who understands being different, and being marginalized. A single mother of a daughter, she joins Penny in her quest for change.
It must be said that the set designed by Kathryn Sproul and constructed by the State Theatre Company is a masterpiece of clever mini sets, all of which emerge from what initially looks like a galvanized iron country shed wall. Despite not having the ability to 'fly' banners and scenery in, the mechanists Stuart Crane and Grant Pertusevics cleverly moved pieces, working signs and homely 'quilts' around the set creating important ambiance. Lighting is excellent, well placed, and is an important part of each of the smaller scenes in particular. Sound was well balanced with Didi Gallasch and Andrew Howard cleverly using an interesting range of apt songs, anthems and voiceovers.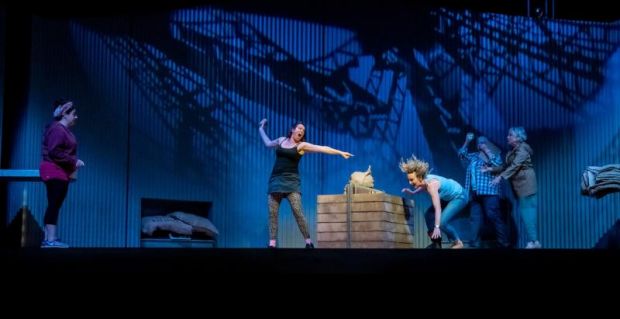 This is a tight ensemble who clearly love their work and are committed to taking the audience on a fun journey that has a powerful message about 'sharing the load.'
Jude Hines
Photographer: Matt Byrne.
Click here to read an extract and buy your copy of the script of The Appleton Ladies' Potato Race.