Arsenic and Old Lace
By Joseph Kesselring. Heidelberg Theatre Company. Director: Bruce Akers. November 22 – December 8, 2012.
Villains wear many faces in playwright Joseph Kesselring's pitch-black comedy classic, Arsenic and Old Lace. There are the adorable faces of elderly aunts Abby and Martha Brewster, whose treatment of lonely old men gives 'charity' a new meaning. Then there is the face of their murderous nephew Jonathan, distorted by plastic surgery to hide his crimes. You would think Jonathan is the true fiend of the piece but the story gets darker, and funnier, from there.
This delicious production by Heidelberg Theatre Company with a cast of 14 on a larger-than-average stage (for community theatre) is great fun for fans of the story, and of theatre. The expansive set, designed by George Tranter, gives plenty of scope for director Bruce Akers to heighten the suspense and farcical elements. Dead bodies are hauled around, shadowy figures loom in doorways, candles flicker and lights go out. The audience is visually checking doors and windows to see which mad character will leap out next.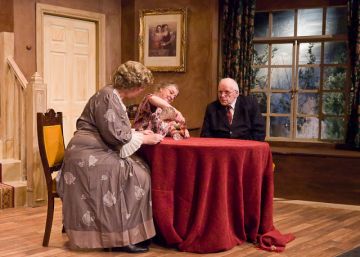 Paula MacDonald, who stepped in to play Aunt Abby at short notice, is ultra-sweet as she dotes on any guest who comes through the door. She overplays the sweetness, especially in the First Act. Like almost every other actor in this show, she brings more texture and variety to her performance in the Second and Third Acts. Wendy Drowley plays Aunt Martha as a cute little old lady with a sinister side. You can see the glee with which she takes the stopper out of her bottle of spiked elderberry wine before offering a cup to her next victim. Andrew Pennycuick plays their dashing nephew Mortimer. Cary Grant reportedly thought he overacted when he played this role in the 1944 Frank Capra film. Pennycuick goes for easy laughs in the scene where he reacts to his aunt's latest act of 'mercy'. He does better as a straight man when the plot becomes more farcical, and eccentric characters are introduced. Chris Baldock is gutsy as 'mad' Teddy Brewster, arguably the play's most innocent character; and Theodora Neave is a head-turning Elaine Harper (Mortimer's girlfriend).
The scene-stealer of the play is Andrew Van de Gumster, as the crazed Jonathan Brewster. Once he enters the living room, accompanied by Alastair Rice in the role of Dr Einstein, the play becomes the ghost train ride it is meant to be. Van de Gumster's performance has just that little bit of restraint, which allows his character to keep an element of surprise. A combination of his physical presence, great make up effects, and an American noir accent give Jonathan a B-grade horror movie style that is perfect for this play. One of Van de Gumster's entrances in the Second Act gives the audience a magnificent jolt. There is definitely a need for Director Akers to inject more jolts into the action and use those hiding spots, doorways and windows in innovative ways.
Great entertainment, deserving of its full houses. This season of Arsenic and Old Lace is sold out.
Sara Bannister
Images: (top) from left: Wendy Drowley as Martha Brewster, Andrew Van de Gumster as Jonathan Brewster, Paula MacDonald as Abby Brewster and Wendy Drowley as Martha Brewster & (lower) from left: Paula MacDonald as Abby Brewster and David Small as Mr Witherspoon. Photographer: David Belton.