The Artist
Adelaide Festival. Circo Aereo. Adelaide College of Arts, Main Theatre. March 9 – 14, 2020.
If you are looking for an Adelaide Festival show that is a lot of fun and suitable for all ages, look no further than Circo Aereo's The Artist.
An artist, obscured by a large canvas, is working in a shabby studio, complete with paint splattered floor, grubby curtains and sickly pot-plant. Inspiration has escaped him and he spends the next hour trying to recapture it in all manner of entertaining antics.
The artist is Thom Monckton, who is no stranger to Adelaide audiences having performed here with his previous offering The Pianist. Originating from New Zealand, Monckton trained with CircoArts in Christchurch before furthering his study at the Jacques Lecoq school in Paris. He is now based in Helsinki where he collaborates with Finnish flagship company Circo Aereo.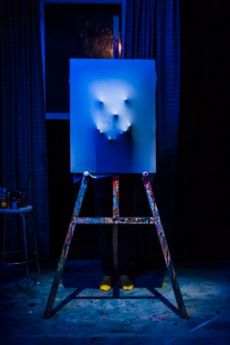 From the outset Monckton captures the hearts of his audience, young and old. He is a gangly, affable character who quickly gains our empathy as he struggles with a plethora of problems. The artist optimistically turns his setbacks into positives, from a leaky roof to an uncooperative canvas. Even an unscripted broken glass bottle, which led to a brief but necessary hiatus in the show, proved no setback for Monckton who barely lost momentum.
Monckton's physical theatre skills shine and his physicality makes him undeniably hilarious to watch. The gangly appearance belies a strength that becomes plainly obvious in some of the more acrobatic sequences in The Artist from a grappling with a staple-gun to finding a myriad of ways to reach the top shelf.
Monckton engages in direct interactions with the audience throughout the show. A young child's squeal of delight inspires an ad-libbed moment of fun. The artist's palette becomes a ping pong paddle enabling a merry tournament. But the real moment of audience engagement comes when the artist invites an audience member up to participate in portrait painting (while dealing with the roof leak), with hilarious consequences.
Director Sanna Silvennoinen keeps the show moving at a cracking pace, with Monckton holding the attention of even the youngest children. Props, from fruit to artist's canvasses, skilfully take on a life of their own and delight young and old.
My favourite sequence in The Artist involved a banana nightclub being gate-crashed by a shrewd pear. That may sound a little surreal, and I guess it is, but you simply need to see it for yourself.
Monckton is a master at physical theatre, clowning and mime, he will keep you in stitches and leave you smiling long after you have left the theatre. Buy a ticket for every member of the family.
Jenny Fewster
Read more Adelaide Festival reviews