Aspects of Love
By Andrew Lloyd Webber, Don Black and Charles Hart. CLOC Musical Theatre. National Theatre, St Kilda. September 23 to October 8, 2011.
Given I had a minimal knowledge of Aspects of Love, written by Andrew Lloyd Webber, I was pleasantly surprised to find that this production was such that I was totally engaged from beginning to end; both with the quality of the performers' acting, and to their singing of the Lloyd Webber songs under the musical direction of Andrew Houston.
Directed by Shaun Kingma, the main performers including Rosa Mc Carty, Blake Testro and Zak Brown all gave stellar acting performances and provided rich vocal renditions of the songs. In fact, I had to remind myself that this was a 'non professional theatre company' production I was watching! Particular highlights were "Love Changes Everything" sung by Blake Testro in the opening and final scenes and "She'd be Better off with You" sung by Zak Brown and Blake Testro. I also enjoyed the enchanting performance of Eliza Bennetts O'Connor as the young Jenny. Rosa McCarty was very convincing in her role as Rose Vibert and did not disappoint with any of her songs.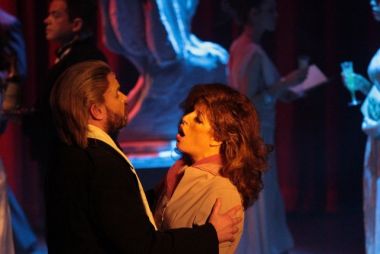 Although at times some prop transitions were a little noisy, I found the set and lighting design were simple yet very effective to the plot of the story.
The only slight criticism I had was it was not completely obvious to the observer the changing years in which the story was taking place. I believe this could have addressed with more specific costuming. Ultimately I applaud this 'non professional' theatre company for executing such a brilliant rendition of this complex Lloyd Webber musical. Well done!
Gabrielle Murphy
To keep up with the latest news and reviews at Stage Whispers, click here to like us on Facebook, or follow us on Twitter.