The Aspirations Of Daise Morrow
Adapted from the short story by Patrick White. Brink Productions. Directed by Chris Drummond. Space Theatre, Festival Centre (SA). 10-24 October, 2015
Adapted from the short story, "Down At The Dump" by Australian Nobel Laureate, Patrick White, The Aspirations Of Daise Morrow is an intelligent, sensitive, thought provoking and at times surprisingly funny examination of the ripple effect that a death can have upon the lives of those left behind, especially in a tightly-knit small town environment.
Set in the fictional community of Barranugli, the tale begins by focusing on the shambolic preparations for the funeral of Daise Morrow, whose youthful romantic exploits were once the scandalous talk of the town. This serves as the catalyst for her various friends, family and acquaintances to reflect upon both their memories of Daise, but also upon the choices they have made in determining how to live a good life. The spectral figure of Daisy herself hovers unseen above the mourners, reflecting upon her legacy and influence.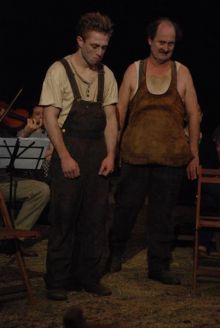 Chris Drummond's stage treatment takes the form of an immersive recital of the story, rather than a conventional stage adaptation. The audience is seated in a circle, atop what is made to seem a grassy hill. Four actors walk amongst the audience, telling the story – each one alternating between omniscient third-person narration and dialogue performed in character. Also seated amongst the audience is a string quartet that provides fleeting musical accompaniment to delineate the transition between scenes and underscore the more introspective moments of drama.
Paul Blackwell, Lucy Lehman, Kris McQuade and James Smith do a sterling job of giving each character a distinctive voice and set of mannerisms, so despite the minimal props and costume changes, the audience has little difficulty distinguishing who is speaking at any one time. Their delivery of the main narration also has an appropriate level of passionate inflection and their movement is calculated to ensure that no matter where one is seated, the show remains visually engaging.
The Zephyr Quartet's scoring of the piece is tasteful and unintrusive, but also nuanced and sophisticated. Much the same can be said about Nigel Levings' lighting design. The subtle fluctuations and shadings serve to add texture to the drama, without drawing undue attention to themselves.
Still, this show is likely to be an acquired taste. Those who like their drama tightly plotted will likely be disappointed; White's tale is more a series of character sketches that, dreamlike, skips backwards and forwards in time, rather than being a story with a clear cut beginning, middle and end. Also, the very format of this piece will likely be off-putting to those conservative theatregoers who think all shows should subscribe to a "show don't tell" philosophy.
But for those willing to roll with its stylistic idiosyncrasies, The Aspirations Of Daise Morrow has charm to spare and, at its best, achieves the warm intimacy of a well -told campfire yarn.
Benjamin Orchard
Images: James Smith & Lucy Lehmann and James Smith & Paul Blackwell