Assassins
Music and Lyrics by Stephen Sondheim. Book by John Weidman. Miranda Musical Society. Director: Garth Saville. Musical Director: Andrew Howie. Choreographer: Emma Paul. Sutherland Memorial School of Arts. June 13 - 22, 2014.
A musical about assassinating US Presidents – it's scarcely mainstream Australian audience fare, but Assassins is one of those rarely performed collectable experiences that musical theatre fans hang out for. For audience members up for a change, or for theatregoers not so wrapt in conventional musicals, this one should also fit the bill.
Miranda's annual 'art house' production, between their two mainstage efforts, is a great initiative by one of Sydney's strongest companies, in this case fostering a new director.
Assassins is one of those great Stephen Sondheim scores which aficionados listen to via its Original Cast Recording thinking, surely this deserved more than a short off-Broadway run in 1990, and the mere 100 performances of its Tony Best Revival award winning season.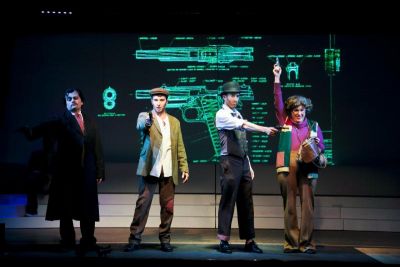 Not an in the know musical theatre insider? Assassins is a revue-style musical about people who assassinated, or attempted to assassinate, a US President. Stylistically Sondheim has crafted a diverse, period-appropriate score to match the various presidents and assassins.
Supported by excellent performances at Miranda Musical Society, you enjoy what's best (what fans have loved on the recording), while realising that this, like other Sondheim 'cult classics', has its flaws. The book for mine, has its highs, but is hardly up to the standard of the score.
As is often the case with 'cult' shows, a strong cast of community theatre talents has flocked to be involved, ensuring a splendid group of nine assassins.
Nathan Farrow is a strong convincing John Wilkes Booth, every inch the failed classical actor, while Gavin Leahy delivers vocally in the narrator/ Greek chorus role of the Balladeer; strong scenes between these two effectively bookend the show, with their powerful status reversal displaying both performers' acting range. Though the director has requested no spoilers about his late-show interpretation, for fans familiar with the 2004 Broadway revival, it holds no real surprise.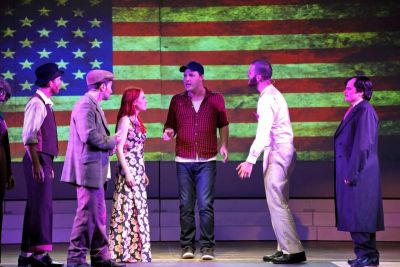 Amongst the strong performances of the cast, there were many stand-out moments. There's a deliciously witty dialogue scene in the park between intending Gerald Ford assassins Jennifer Parbery (Lynette 'Squeaky' Fromme) and Chiz Watson (Sara Jane Moore). Peter Meredith's manic monologue as Samuel Byck, recording a message to Leonard Bernstein, more darkly comic, is quite compelling (his later monologue less so). Andrew Fabris (John Hinckley) and Jennifer Parbery combine in perhaps the vocal highlight of the evening, 'Unworthy of Your Love', splendidly capturing Sondheim's masterful juxtaposition of the beauty of the song, with subtextual darkness. The list could go on for some time.
There's pretty spectacular special effects in one execution too, with technical bells and whistles, while another takes the gospel / vaudeville path which the score really demands.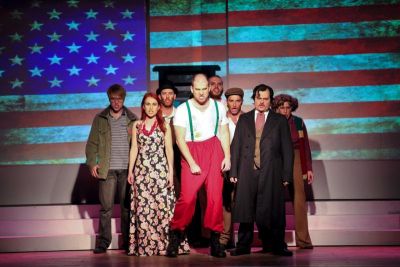 Director Garth Saville has eschewed the sort of carnival, sideshow or vaudeville motifs usually associated with the piece, and gone for a somewhat neutral, more straightforward historical interpretation. Though making excellent use of projections as his unifying design feature, stylistically it makes some elements less clear though, for instance exactly who or what is this 'Balladeer' in his red checked shirt and baseball cap, outside standard conceptions of the show. In contradiction of his later choices, too, Saville retains the sideshow feel in the show's opening number. What I missed was a more clearly defined spine driving the production forward.
The sound mix in this show, sometimes an issue at this venue in the past, was perfect.
With Sondheim's 'to die for' score (pun apologies), well served here by an excellent band and a 'killer' cast of assassins, put aside any reservations I've expressed, step outside the Rodgers and Hammerstein / Lloyd Webber musical envelope, and catch a performance.
Neil Litchfield