Assassins
Music and Lyrics by Stephen Sondheim. Book by John Weidman. Directed by Dean Bryant. Choreography by Andrew Hallsworth. Musical Director Andrew Worboys. Set and Costume Design Alicia Clements. The Hayes Theatre Co. June 7 – July 1, 2018
The return of Hayes' Theatre's stunning production of Assassins to the stage of the Playhouse was marred by a painful injury to Bobby Fox just as he concluded his brilliant, light, swift-footed, crazed depiction of Charles Guiteau (hanged for the assassination of President James Garfield in 1881). After an amazing song and dance routine, including a skipping sequence with a fluorescent rope, Fox faltered and fell.
David Campbell, in his character of John Wilkes Booth, announced that there had been an accident and asked the indulgence of the audience. Sometime later, director Dean Bryant explained that Fox was okay, but on his way to hospital – and the show continued with associate producer Stephen Bignell "filling in" with script in hand.
Despite such an unfortunate incident, this opening night performance promises a great return season. The original set, designed by Alicia Clements, conjures the tawdry gaudiness of an abandoned fairground, where this felonous "group of time travelling misfits" who have either assassinated – or tried to assassinate – a President of the United States, come together. It's not the usual 'bill of fare' of musical theatre, but it's Sondheim and Weidman, so of course it's going to be different.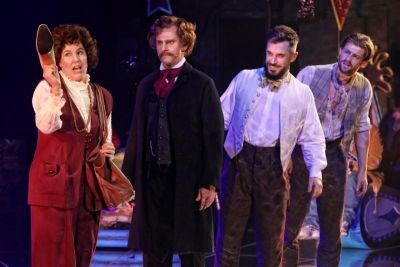 From John Wilkes Booth, to Lee Harvey Oswald – this motley group of villains sing and dance their way through "their uniquely subverted" reasons for taking on "the Chief". The music, led by Musical Director Andrew Worboys, varies in line with the popular music of the eras depicted, and so, therefore, does Andrew Hallsworth's choreography. The overall pace is fast and demanding and the insights into the characters, perceptively conceived by Sondheim and Weidman, are portrayed by multi-talented cast.
Encouraged in their nefarious intent by The Proprietor (Rob McDougall), narrated in song by The Balladeer (Maxwell Simon, who also plays a diffident Lee Harvey Oswald) and led by David Campbell playing a suavely malicious Wilkes Booth, their progenitor, the "family" of assassins – Kate Cole, Connor Crawford, Hannah Fredericksen, Anthony Gooley, Madeleine, Luigi Lucente and Jason Winston – work with professional, clockwork preciseness in the eleven very different and therefore challenging musical numbers.
As they come together at the shooting range in the finale "Everybody's got the Right" on the day Donald Trump and Kim Jong Yung meet in Singapore, The Proprietor replaces portraits of the ill-fated Presidents with a suggestive sign that asks … "Who's Next?"
Carol Wimmer
Photographer: Prudence Upton.