Attila
Music by Giuseppe Verdi. Librettist: Temistocle Solera. Co-production by Teatro alla Scala and Opera Australia. Joan Sutherland Theatre, Opera Australia. March 2020.
Just when you thought Opera Australia couldn't possibly squeeze any more opulence onto the stage of the Joan Sutherland Theatre, along comes this mind-boggling production of Verdi's second opera.
Attila was composed by Verdi in his early 30s before he produced his long list of blockbusters. This Australian premiere of the opera was made possible by a co-production with the famous La Scala in Milan, where it was first staged in 2018 and attracted great adulation.
I lost count when I got to 60 counting members of the cast. There is a grand ornate set which blends ancient Roman ruins with World War II era structures, lavish videography, that resembled a scene from the movie Gladiator, and even two horses!
One beautiful white horse was particularly striking. It was ridden onto the stage by Pope Leo I, in a scene which recreates Attila's dream, that is set at the gates of Rome. The nervous looking nag did its duty, but gave the impression that standing on a stage with bright lights and lots of music wasn't exactly its idea of a good time.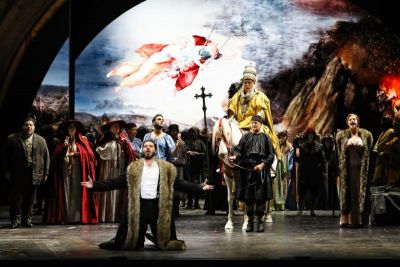 The horse's eyes were covered by lavish white hair and I imagine there were ear muffs in there as well, but even so I hope they gave it extra carrots on opening night. The conclusion of this scene was gorgeous - reminiscent of a grand work of Renaissance art.
The opera is based on the play Attila, King of the Huns and chronicles the fearsome conqueror's epic battle with Rome. Director Davide Livermore updates the action from 5th century Italy to fascist Italy during the 1930's. There are moments of brutal violence which you would expect in an opera about a ruthless conqueror – but the bluntness is nonetheless confronting.
For Verdi buffs it is fascinating to hear an opera from early in his career. Many of the arias felt familiar as they were structured in a style which he developed later in his career. Whilst there are no immediately recognisable show-stopping beautiful tunes, there are several highlights.
One of the best musical moments is the early striking duet "Uldino a me dinanzi" performed with great gusto by baritones Attila (Taras Berezhansky) and the Roman General Ezio (Simone Piazzaola) as they debate a peace treaty.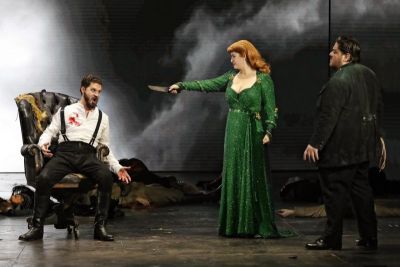 No grand opera would be complete without a battle of the heart. Providing the heartache in spades in this opera is soprano Natalie Aroyan as Odabella and bullet proof tenor Diego Torre, whose characters scheme to undermine Attila.
Sitting in front us at the opera was the Director Davide Livermore. His boyish enthusiasm for the production was amusing but he was distressed that the audience laughed at a ludicrous moment in the final scene.
Talk at the after show party was that this moment might be tweaked. Sadly, only two performances of this lavish production were performed before the restrictions imposed by the corona virus.
David Spicer
Photographer: Prudence Upton