Of Auburn - The Untold Stories of Women in War
Written by Steven Oppes and co-produced by Steven Oppes and Jean-Marc Spiler. Auburn FrenchFest. The Stables, Rising Sun Inn, Auburn, SA. September 10-12, 2021
The world premiere of Of Auburn at the Auburn Frenchfest on 11 September was a delightful surprise to this reviewer and a clear hit to the packed audience. Written by Steven Oppes, co-produced by Steven Oppes and Jean-Marc Spiler, and directed by Lisa Harper Campbell, this is a clever multimedia presentation on the Great War. It masterfully weaves the life and war poetry of CJ Dennis and the memories from Madge Yeatman as a volunteer nurse in this war. What, you may ask, do both of these historical figures share, apart from a war theme? They were both residents of Auburn.

This beautiful little town gave birth to CJ Dennis. Born in the back room of the Auburn Hotel in 1876, Dennis, over a period of 40 years gave rise to 4,000 works and pieces of poetry. He is also the creator of 'larrikinese', well presented in The Sentimental Bloke and Australaise, his contribution to a competition for a new National Anthem after Federation. During Of Auburn, these hilariously rude lyrics are not only sung by the actor playing Dennis (Nic Conway), but joined in boisterously by the audience! A real treat. Conway captures the cheeky sardonic wit of Dennis with flair. He is funny, poignant and entrancing to watch.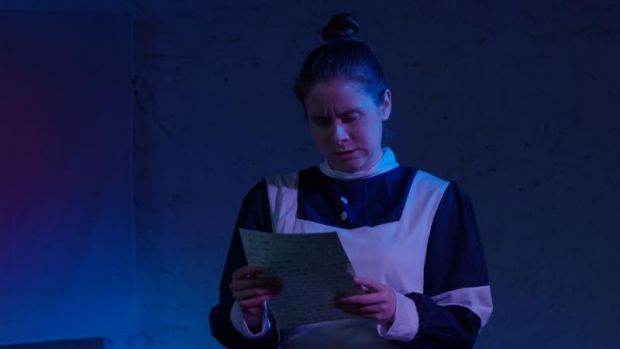 Madge Yeatman (Clare Mansfield) tells her story interspersed with Dennis' tales and poetry. She tells us 'I am many women' and we are drawn into the lives of these volunteer nurses and the trauma which they faced through their diaries and letters. Mansfield is likewise convincing, as she switches from nurse to nurse, cleverly painting their stories as vivid verbal images.
A rendition of poetry, diaries and letters relating to war could have been a very dry piece, but the writer has woven the stories amid elements of music and audio-visual (by Stu Nankivell). Images of war from Frank Hurley and AW Savage are displayed on a screen, and lyrics to songs projected on a rough brick wall (in itself, quite rustically poignant).
We are also treated to the musical talents of 'Minnie Little' (Jasmine Ferguson, Ciara Ferguson & Jack Overall). Beautiful vocals in French, telling stories from women's perspectives of war, float through the room with crystal clear accompaniment on piano and cello.
This is a very different piece of theatre, as it combines strong acting, music and multimedia to bring historical moments to life in a modern setting. This performance will tour and be presented at next year's Fringe. Well worth the ticket price.
Shelley Hampton