Australian Realness
By Zoey Dawson. Malthouse Theatre, The Merlyn. 16 August – 8 September 2019
It's great to see Zoe Dawson's unique and unconventional sensibility being supported as a voice on one of our main stages. However don't expect an easy comfortable work. It's confronting. Australian Realness is funny, but also funny shocking. And for this reviewer, who generally thrives on ambiguity, it's a little too ambiguous.
In a period of immense social change, this retrospective take on class difference/warfare is surprisingly thought-provoking. If nothing else it's a chance to look at Australia's social mores of late 20th Century. Presumably it is set in the 1990's, however there is also a sense that it references politics as far back as the 1980's - a time when Trade Unions were powerful and we were on the cusp of a Share Market crash. At the same time it feels as though it could all be unfolding in the present.
On one level Ms. Dawson's play conveys some of the inner workings of a middle class family who appear to be living an enviable existence. However they, all in their own way, have a delusional grasp on privilege. All four, Father (Greg Stone), Mother (Linda Cropper), Daughter (Emily Goddard), and Son (Andre de Vanny) have a modus operandi that lacks transparency in their dealings with each other. All are struggling financially. Times are tight and attitudes appear to be geared to result in catastrophe. It could be today's financial climate with stagnant wage growth and growing power bills.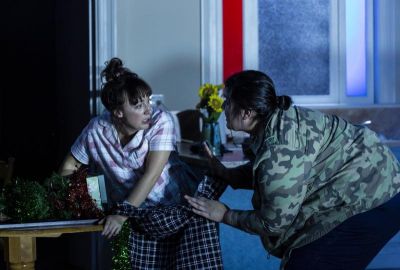 Then we are introduced to another family. Here - hysterically - Theatre meets Sitcom. This funny, strange, at times bemusing curved ball attempts to pit the little Aussie battler against the self serving middle class, whose duck feet are frantically paddling to maintain their status quo.
Throughout the evening we are transported through a number of unexpected shifts in reality and expectation. This would be complication enough but then we are launched into a sort of deconstruction of everything including the sanctity of human life. One too many shifts in genres perhaps - it certainly adds confusion; two plays in one conceivably, or perhaps just too many genres in one work to be agreeable. Or there could be a mysterious other text that is not yet fully realized or formed.
All actors excel in transforming from character to character. They are just great. Everyone is pretty remarkable but particularly Linda Cropper. She morphs herself into three wickedly funny, entertaining and illustrative characters.
Stage management (John Sherrin) must be on its mettle to support what unfolds.
Watching this work does remind us that our world/society is changing pretty dramatically.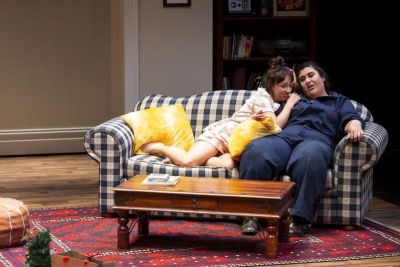 Ultimately Australian Reality is fielding too many ideas to be fully satisfying as a work of theatre. It feels unruly and not quite coherently 'broken in'. However it is engaging, never dull and distinctive.
I sense that the Director Janice Muller has been extremely liberal and supportive and that the work has been growing organically throughout the rehearsal period.
On opening night there were some moments when the microphoned actors could barely be heard, and from where I was sitting the elevated lights stage right, that were angled above the set, were very glary. Hopefully these technical issues have been sorted.
Australian Realnessis a chance to witness the development of an interesting emerging voice, with a lot to say, offering us heaps to think about.
Suzanne Sandow
Photographer: Pia Lohnson
Cast Includes
Linda Cropper
Andre de Vanny
Emily Goddard
Walter Henry Phillips
Chanella Macri
Greg Stone
Credits
Direction - Janice Muller
Dramaturg – Declan Greene
Lighting Design – Amelia Lever-Davidson
Sound Design and Composition – James Paul
Set and Costume Design – Romanie Harper
Stage Manager – Josh Sherrin