Avenue Q
By Robert Lopez, Jeff Marx and Jeff Whitty. Brighton Amateur Fisherman's Association (NSW). September 9 – 17, 2011.
The Show Did Go On!
Imagine this!
About a week prior to opening night you're locked out of your theatre due to asbestos problems. You've bumped in everything except for the sound system, and you aren't allowed access to get anything out.
This was the problem faced by Rockdale Musical Society's Avenue Q, when Rockdale Town Hall suddenly became a no-go zone.
With only the naughty Avenue Q puppets and the cast available, what do you do? Director Osman Kabbara told me that the show looked like being cancelled, but only for about half an hour.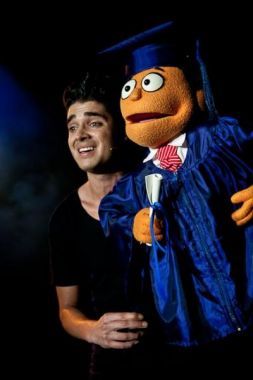 That's when the ingenuity, resourcefulness and goodwill kicked in to ensure the show went on.
A new venue was found, a club auditorium in the next suburb, and Sydney's Community Theatre community rallied around brilliantly. One local company's set from a recent production of Cabaret had the requisite entrances (another company offered to prep a set), orchestra stands (yes, even they were locked in) came from another company, and voluntary labour came from far and wide.
The company effectively built their own theatre in the auditorium, which lacked even lighting bars. Draping and rigging, however, did the job well.
In short order the show was re-blocked for it's makeshift set and significantly smaller stage, and the production opened as scheduled. Heaven knows how many extra hours of rehearsal went in.
The result?
Rockdale has assembled an excellent community theatre principal ensemble – terrific singers and actors, who have been impressively trained by Puppet Director Nicholas Lewis. With that extra dimension to the performance, if there had been enough room to really dance, I'm guessing we might have seen a budding 'quadruple threat' or two.
Everyone has clearly pulled together magnificently to adapt their production to the new constraints, and the result is delightful in and of itself. The performance is bursting with joyous, deliciously naughty energy.
I'll skip individual cast mentions – suffice to say it's bouquets all round.
I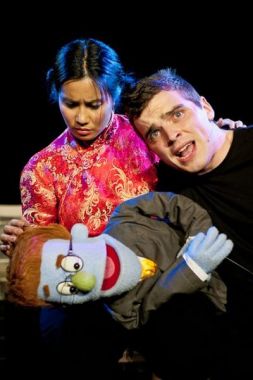 'm sure what I saw on Sunday afternoon was a decidedly more intimate, close quarters production than originally planned – but if you weren't privvy the behind-the-scenes dramas, the delightful, cheeky on-stage musical comedy performance barely betrays a sign of them.
The accompaniment, from the backstage band, led by Therese Doyle, was excellent, as was the sound mix.
From my privileged critic's seat in the front row, this was a terrific musical theatre experience. Maybe a little further back in the un-raked auditorium, given that the stage is on floor level, viewing may not be perfect, so be early as the seating is mostly unallocated. But hey, if the company and performers can improvise so mightily, surely audiences will happily manage do so too.
What's the show about? Sorry – I almost forgot. For the uninitiated - Warning: It's a cheeky, funny Adults Only mixed puppet and human musical with (puppet) sex scenes and coarse language. Leave the kids at home.
Neil Litchfield
Images by Grant Leslie - Perfect Images.
Read our earlier coverage. Link
To keep up with the latest news and reviews at Stage Whispers, click here to like us on Facebook, or follow us on Twitter.