Avenue Q
Music and lyrics by Robert Lopez and Jeff Marx. Book by Jeff Whitty. Directed by Stephen Wheat. Trifle Theatre Company. Chapel off Chapel (MICF). 25th March -19th April, 2015
Oh what a delicious and totally satisfying dessert Trifle Theatre Company give us for their very first production. Packed full of calories with a base of rich sponge (the book by Jeff Whitty and music and lyrics by Robert Lopez and Jeff Mark) with lashings of fruit (clever and precise choreography in the tiny Loft space by Michael Ralph; the hottest and best new talent around and a terrific band under the direction of David Wisken); tasty jellies of all colours (the amazing lighting of Jason Bovaird – always very special; great sound design from Marcello Lo Ricco; and terrific set and costume design – as well as AV – from Jacob Battista) it is topped with lashings of cream (excellent direction from Stephen Wheat, with assistant director Ben Nicholson – there's pace and clarity and nuance that never flags through the whole 2 acts). It's topped with 10 Superb plump juicy cherries (a fabulous cast that has everything). Enough with the recipe….these metaphors are making me hungry.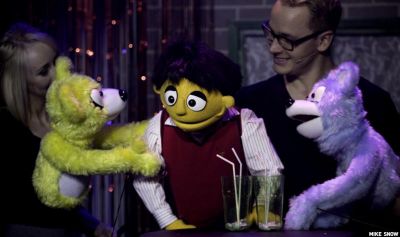 For anyone who doesn't know Avenue Q (is there such a person?), this unlikely Broadway triple crown winner is an adult spoof on Sesame Street played with puppets. But that's where the similarity ends. The storyline sees newcomer Princeton, with nothing but a useless BA, taking a flat on the street while he looks for his "Purpose" in life. His neighbours include the lovely Kate Monster; the reclusive Trekkie Monster who spends his time on the Internet looking at Porn; Straight Nicky and closet gay Rod, an Odd Couple of flatmates; a would-be comedian and his bossy oriental fiancée and Gary Coleman – the once child star turned Janitor. As well as being triple threats, the cast need to be skilled puppeteers, or the show just doesn't work.
This cast would be a wish list for any production anywhere, so good are they.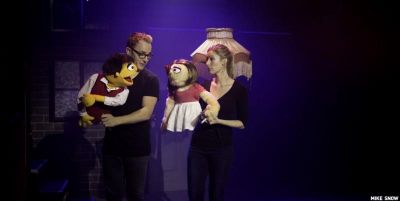 Jordan Pollard is simply brilliant as Princeton and Rod. He handles the superbly witty songs with the same ease and conviction as he handles the puppets and is endearing as both. My only wish is that we could have seen him tap (Jordan is the Creative Director of The Tap Pack)…if only for 16 bars; it seems a shame not to use that skill…but he more than compensates for it. He lights up the stage with every entrance.
Sarah Golding is Kate, as well as the sultry vamp (or is that Slut?) Lucy. The puppets seem like an extension of herself, so perfectly in synch is she. It's a wonderful performance, made doubly impressive by the fact that Sarah is the founder of Trifle and Executive Producer of the show. She's particularly poignant in the wistful "There's a Fine, Fine Line" – the show's love ballad. There's real chemistry between her and Pollard and the "Sex" scene is far raunchier and more hilarious than I have ever seen before (remember, these puppets only exist from the waist up).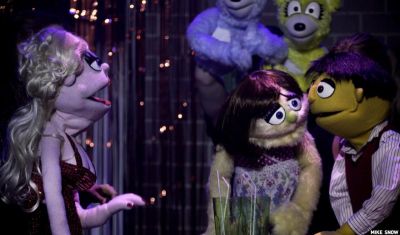 Andy McDougall is a superb talent, as well as being Producer of the show. He designed a whole new set of puppets for this production and worked with the whole cast on their puppetry skills. Not surprising since he's a multi award winning puppeteer, but he's also a fine performer in his own right who brings an "Ernie" like quality to Nicky and a gruff charm to Trekkie Monster.
These three leads exude talent, energy and camaraderie and make sure the show is always grounded in real exhilaration without allowing it to go over the top like some productions I have seen. Their exhilaration and love of performing are infectious and by the interval many of us were singing "It Sucks To Be Me" – even if that was the only line we knew.
Zuleika Khan is always amazing with that extraordinary powerhouse voice, but she also shows real comic talent as Gary Coleman… she's delightful as well as impressive.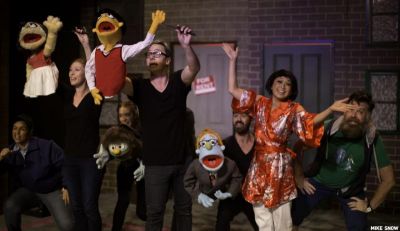 Michael Linder is the perfect Brian…a dag, a slob, a goodhearted dreamer, but he also sings and dances up a storm. Leah Lim, as Christmas Eve, is very funny and far removed from her equally great performance as Connie Wong in A Chorus Line. She commands the stage with her tiny presence but she will probably need to ensure the accent doesn't get any thicker and become incomprehensible.
The ensemble of Kathleen Amarant, Brett Fisher, Imogen Moore and Jeff van de Zandt, all have individual moments to shine and they devour them. Wheat's direction for the cast, masking their faces with one puppet whilst voicing, another works to perfection. There simply isn't a weakness anywhere in the production. I have seen three other productions, including the original, but none could hold a candle to this.
The season is sold out but there will undoubtedly be a return….once word is out, everyone will want to say they've seen it. This is theatre at it's very best… full of joy, energy and talent….and the Tony Abbott moment is just a dash of icing sugar. I take my hat off to Trifle … and could I have another helping please?
Coral Drouyn
Photographer: Mike Snow
More MICF reviews
Damian Callinan: The Lost WWI Diary