Baba Yaga
Windmill Theatre Company and Imaginate production presented in association with the Adelaide Festival. Queen's Theatre. February 26th – March 6th, 2019.
An old Russian folktale is the inspiration for the creative, vibrant and wickedly funny new show from Windmill Theatre Company, Baba Yaga. Known for its high standards in creating contemporary theatre for children and young adults, the company's latest offering is nothing short of sublime.
Three wonderfully talented women, Christine Johnston, Shona Reppe and director Rosemary Myers, have joined forces to create a tale of self-discovery. They have started with an old folktale and given it a modern twist.
Many tales that involve a witch can be very one-dimensional, but our eccentric witch (Baba Yaga) is mysterious, likeable and depending on her mood, rather charming. Christine Johnston breathes life into this captivating character, with a face that contorts with every emotion, a voice that is capable of arias as well as animal calls and a presence that is larger than life. In contrast is the petite, vulnerable character of Vaselina, played by Windmill regular, Elizabeth Hay. Just as alluring, Vaselina can hold the audience's attention without saying a word.
The backdrop for this story is a bleak apartment lobby. The stark white furniture is merely a backdrop to a larger world of animation. Never have I seen animation bring such life to a production without over-powering the performance by the actors. Animator Chris Edser's creations are mesmerising. I was in awe of his flair and attention to detail.
Lighting designer Richard Vabre has lifted the mood with his well thought out design, mimicking the changes in setting with his shift in colour and density.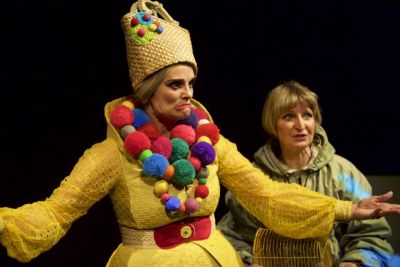 The high production values continue with colour and textures provided by costume designer and maker, Selene Cochrane. Yaga is dressed in a muted yellow dress, with a colourful pom-pom-adorned neckpiece; this is topped off by a handbag worn as a hat. Johnston is a tall woman, but adorned with a hat and flowing sleeves, she cuts a menacing figure. In contrast Hay is dressed in a dull grey raincoat, that is gathered to resemble a cocoon.
Cocooned in uncertainty of her potential, Vaselina's friendship with Yaga eventually sheds her of this insecurity, revealing a self-assured young woman dressed in blue sequins.
Although aimed at a younger audience, there is nothing juvenile about this thought-provoking piece of theatre. You will laugh and witness with mouth wide open a friendship bloom between two unlikely characters. Given the choice of eating her new friend, Yaga instead takes her on a journey through her apartment on floor 101 to the depths of outer-space.
Told with mime and timely sound effects, song and dance and a joyous script, this production leaves one feeling that you have witnessed something incredibly special.
It also carries with it a message. Believing in oneself and following in one's dreams is not just something for the younger audience to aspire to, but a sentiment that speaks to the child in all of us.
And this event is not just a stage show. You have the option to discover a pop-up jungle in the foyer of the theatre.
It seems Windmill's imagination is without boundaries. Lucky us!
Kerry Cooper
Photographer: Rob McDougall