Baby Doll
By Tennessee Williams, adapted for the stage by Pierre Laville and Emily Mann. Ensemble Theatre, Sydney. Oct 18 – Nov 16, 2019
To promote his 1956 film of Tennessee Williams' Baby Doll, director Elia Karzan ordered what was the largest billboard in the world. The massive image of a pouting, nubile teenager thumb-sucking in her crib caused a scandal; audiences flocked but the critical response was muted.
Pierre Laville and Emily Mann recently adapted Baby Doll for the stage, returning us to that Mississippi hothouse where the loutish Archie Lee waits impatiently to bed his new wife but, as promised to her late father, only when she turns 20.
Trouble escalates when the Italian neighbour, suspicious that Archie has just burnt down his cotton gin, comes visiting and appears to beat Archie to the prize.
Jamie Oxenbould is compelling as Archie Lee, growing in impotent anger, while Socratis Otto is enigmatic and visceral as his nemesis, Silva. Kate Cheel takes all honours as the trapped, manipulative Baby Doll only just containing her sexual and social ache. Maggie Dence is the half-demented housekeeper, Aunt Rose Comfort.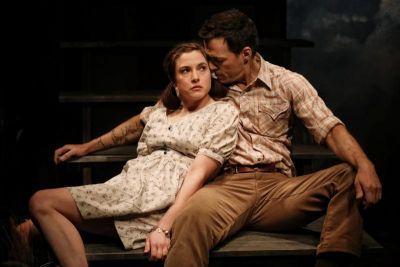 Their gothic unfolding horrors are no surprise and – perhaps because of its origins as film – the storytelling is linear, while Williams' usually brooding subtext is played strongly out front on the small Ensemble stage.
But backed by Anna Tregloan's effective elevation of Baby Doll's elusive retreat, director Shaun Rennie draws out finely detailed performances, all tense and steamy – as the undergrowth spreads across the yard. Tregloan's 1950's costuming is also expressive.
Via film to stage, we now happily have another Williams play, not a masterpiece, but certainly a new fantastical set of his seething and entwined characters. They're worth meeting.
Martin Portus
Photographer: Prudence Upton