Bach St Mathew Passion
By Johann Sebastian Bach. Opera Queensland & Camerata of St John's Production. Concert Hall, QPAC. Director: Lindy Hume. Conductor: Graham Abbott. 21-23 March, 2013.
With the Catholic Church electing a new Pontiff last week and Easter almost upon us, it would seem to be perfect timing to present Bach's baroque oratorio St Mathew Passion.
Opera Queensland and Camerata of St John's production however left a lot to be desired, indicative of the walk-outs at interval. A cloud of pretension covered Lindy Hume's direction like a shroud. With the orchestra and cast dressed in street clothes, and the singers carrying books, one could be forgiven if one thought they were watching a rehearsal.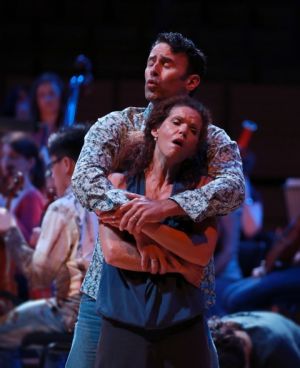 Hume's staging buried the principals amongst the chorus so that frequently one was at a loss to know where they were actually standing, and Nigel Levings lighting did not help. 'Pretend acting' was the order of the day, quite the worst I've seen on a stage for many years.
Best vocal performance came from baritone Paul Whelan as Jesus, but unfortunately the character disappeared from the plot early in Act 2. Swedish import, tenor Leif Aruhn-Solen, no stranger to the role of the Evangelist, had a beautiful tone but lacked an imposing stage presence frequently being 'lost' in the chorus. Counter-tenor Tobias Cole and soprano Sara Macliver admirably negotiated some fiendishly difficult passages of music with skill.
Best performance overall was that of the Camerata under the baton of Graham Abbott, who played Bach's fugue-like score with the feeling and passion it required.
At two and a half hours it's a long oratorio, not as long as the original which had a one-hour religious sermon between acts, but nevertheless long. The whole production came across as Lindy Hume's classical version of Stephen Schwartz' Godspell which used the same source material. Only problem was, Schwartz did it better, briefer, and more entertainingly.
Peter Pinne
Images: (top) Paul Whelan as Jesus and (lower) Tobias Cole and Sara Macliver. Photographer: Stephanie Do Rozario.