Back To The 80's
By Neil Gooding. Packemin Youth Productions. Concourse Theatre, Chatswood. January 8 – 23, 2016
Packemin Youth presented an energetic spectacle for their opening 2016 season with the Jukebox musical Back To The 80's. Produced by Neil Gooding (playwright of the show) the opening night performance went off with a bang apart from a few minor technical glitches, and showcased a multitude of some of the best youthful talent from all over Sydney.
Sitting in the audience you really felt like you were taken back to the 80's, with the colourful Rubix Cube LED set and the 80's music playing as you walked into the Concourse Theatre. Neil's script, set at William Ocean High, has you watching an older version of our lead role, Corey Palmer (David Tucker playing Corey Snr and Lochie Kent as Corey Jr), reminiscing on his last year of high school - from the School President elections to the end of year formal, and of course getting his heart broken by the prettiest girl in school, Tiffany Houston (Lara Domeney). The show also wouldn't be complete without its typical head of the Jocks, Michael Feldman (Josh Ridge) and his gang, the class Nerd Feargal McFerrin the III (Alex Young) and our two secretly-in-love teachers Mr Cocker and Miss Brannigan (Mark Simpson and Jocelyn O'Brien).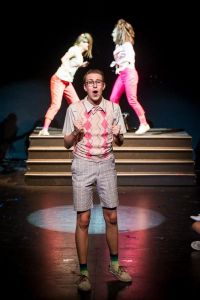 One of the main elements of the show, though, was the amount of hit-after-hit 80's songs used in the musical. From the opening number, Wham's "Wake Me Up Before You Go Go", through to the Finale of "(I've Had ) The Time of My Life", all had the audience, young and old, toe tapping and clapping to each song.
Directed by Packemin regular Jordan Vassallo, it was very evident that he knew the show well and had been able to pass on the "in jokes" and 80s nostalgia to his young cast to help them understand the characters they were playing and to find the comedy in the script. Jordan's use of the large stage at the Concourse was very effective with a huge cast of 70, using minimal set pieces and props, although some seemed clunky to move around the stage.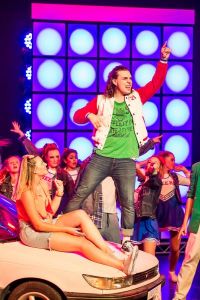 Lots of credit must also go to the choreographers, Cameron Mitchell, of So You Think You Can Dance fame, and Craig Nhobbs. The choreography of all these amazing 80's numbers looked very effective, and not one cast member seemed to put a foot wrong with the steps; they all looked like they were having a ball.
Musical Director Rachel Kelly seemed to have a huge job in doing justice to each and every song; her work paid off in nearly all numbers. Some stunning voices were to be heard, especially in two numbers "Glory of Love", sung by Paddy Jenkins, and in the large group number "Man in the Mirror" with some amazing solos sung by Mark Simpson.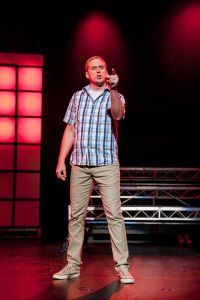 There seemed to be a few sound and lighting issues to iron out after opening night. Some costuming choices in a couple of the large scenes didn't quite come together, but overall, it was a great achievement to fit 70 performers on stage, creating big, bright look
Notable performances were Lochie Kent as Corey Jnr, who really showed moments of comedic awkwardness, with his Luke Skywalker portrayal in one particular scene hilarious.
Lucy Clifton, playing the cold hearted popular girl in school, showed some great moments of comedy timing and her powerful voice shone through in many of the musical numbers. Alex Young's performance as Feargal drew lots of laughs in the audience. Paddy Jenkins and Jamie Smith bounced off each other well as Corey's two best friends Kirk and Alf. Another stand out was Josh Ridge, as Jock Michael Feldman, who dominated the stage when needed and played the true typical meat-head with ease.
Overall, Packemin Youth Productions have staged a thoroughly entertaining performance, paying homage to the 80's era superbly. Congrats to all involved.
James Russell
Photography by Grant Leslie
More reading - our preview article.