Bad Auditions by Bad Actors
Wings2Fly Theatre. Stirling Community Theatre. Returned production, I performance only, March 16, 2019.
While Wings2Fly Theatre focuses on producing two plays per year, the company has remounted Bad Auditions by Bad Actors for one day only this month due to its popularity during the show's short season in January.
This youth theatre company has a different approach than that for most youth theatre, ie companies for which big casts and staging musicals is the focus. Wings2Fly produces straight plays and by keeping actor numbers down so that their 'school holiday period' training can be individualised for participants, the company encourages its actors to take risks with character development.
Clearly evident from the quality of their work, the risks these fine young actors take in that development are not as extreme as taken by some of the 'bad actor' characters they portray in their hilarious, simply staged but excellent production this past weekend of Ian McWethy's play, Bad Auditions by Bad Actors.
Helped by an only slightly interested assistant Ryan, Red Barn Theatre's Director Claire Daniels has only a day to cast suitable actors for a community theatre production of Romeo and Juliet. However, the eccentric candidates who arrive to audition have hilarious notions about what it takes to play the young lovers…all very different in interpretation than the expectations and requirements of the Director. Complicated by a fugitive and police, a non-helpful agent, an annoying and ever-present acting coach, audition cancellations, angst and the love life of Ryan, the result of the audition process is likely to be chaos, not casting.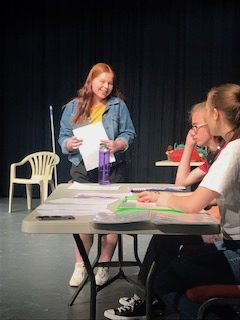 While Red Barn's Romeo and Juliet has its very amusing actor issues in this narrative, without exception the cast of Bad Auditions is uniformly confident and talented, doing a great job of keeping the pace fast, the cues great and the energy high without losing control. What's more, it is obvious they have fun and are not under overt pressure in terms of performance, an important aspect of youth theatre.
Byron Jeffrey is very funny as Ryan and is blessed with a natural, unselfconscious stage presence. Lauren Jones is terrific as the director Claire who must try to maintain patience while witnessing the strained vocals and bizarre physicality paraded before her. Joshua Elford was an audience favourite in his dual roles as Martin and Darcy. He is a 'pocket rocket' on stage; wonderfully watchable.
Co-Directors and founders of Wings2Fly Theatre, Michelle Nightingale and Alicia Zorkovic have much to be proud of with this unique youth theatre company and are themselves, as directors, now preparing for imminent auditions for the company's next production. Without doubt, with the calibre of the young actors who are at the core of this company, the process will have none of the issues at the hilarious heart of their current show.
I predict they will be fine auditions by fine actors.
Lesley Reed