Bad Blood Blues
By Paul Sirett. Manilla Street Productions (VIC). Director: Chris Parker. Producer: Karen Jemison. Stage Design: Andrew Bellchambers. Lighting Design: Scott Allan. The Loft Theatre, Chapel Off Chapel, Melbourne. 11-26 November, 2011.
The opening night audience of the confronting and thought-provoking play Bad Blood Blueswere greeted with gentle sounds of African singing and guitar as they filtered through the Loft Theatre with their complimentary cocktail, a "Gin Jack Shack Attack", featured later in the play.
The music, performed live on stage by Malawian-born musician David Marama, wafted over the set: a 1990s battered, no-frills medical office with clinical lighting, white floor, and the bare office essentials.
Bad Blood Bluesfollows the story of an Australian medical researcher in Africa, Clare (Glenda Linscott), who is conducting a double-blind clinical trial to find a cheaper alternative to AZT for HIV/AIDS sufferers, and young African UCLA applicant Patrice (Blessing Mokgohloa) who, unbeknownst to Clare, is related to a subject in the trial.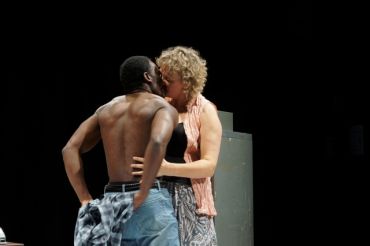 Through their interaction, which begins gently and becomes steadily more intense as the play goes on, the audience is confronted with uncomfortable realities. Cultural differences, inequality, post-colonial attitudes are all presented and the ethical and moral entanglements of the trial itself are also shown. Questions present themselves to the audience throughout the play: is it ethically unsound to withhold known treatment from individuals suffering an illness if it is for the greater good of finding a cure for all? Would the same trial be conducted in the same way were it in a western country?
The play has its light and dark sides through which Linscott and Mokgohloa gave well-crafted, engaging performances. As they ventured through the moral minefield every emotion felt by Patrice and Clare, from humour to resentment and rage, was also felt keenly by the audience. Character was never broken, even during scene changes, which they did themselves.
Marama's music punctuated the play during the scene changes and served as a means of both maintaining the cultural setting of the play as well as providing relief for the audience, allowing them an emotional breather before the action in the next scene.
Jess Carrascalao Heard
Images: Glenda Linscott and Blessing Mokgohloa. Photographer: Simon Parris.
To keep up with the latest news and reviews at Stage Whispers, click here to like us on Facebook, or follow us on Twitter.