bare
By John Hartmere and Damian Intrabartolo. Supply Evolution. Director / Choreographer: Hannah Barn. Musical Director: Matt Reid. The Depot Theatre, Marrickville. Nov 30 – Dec 17, 2016.
bare goes boldly where most other high school musicals fear to go; it's a thought-provoking piece dealing truthfully and edgily with gay sexual identity in a co-ed Catholic boarding school, throwing body image issues, peer pressure and bullying into the mix for good measure.
Teenage rites of passage play out in tandem with rehearsals for a musical version of Romeo and Juliet, balancing the angst, hormones and emotional drama with lighter moments. The predominantly rock score integrates rap, soul and Broadway-style ballads effectively.
Production design and values in the black box space at The Depot Theatre in Marrickville are basic (a scarcely necessary set piece seems likely to fall as the ensemble navigate the narrow entry) throwing the emphasis on the energy and talent of a strong young cast as the driving force.
Hannah Barn's production handles big issues sensitively and truthfully.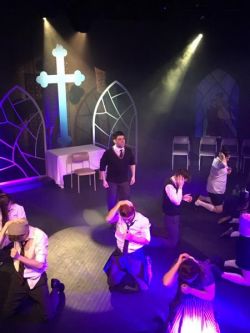 At the centre of bare is the relationship between Peter (Aaron Robuck), wanting to acknowledge his love openly, and Jason (Alex Jeans), determined to remain closeted. It's poignantly portrayed at every step, and their duets, in particular, are musically and dramatically powerful.
The impact of their relationship extends to those around them as well - their friend Ivy (Sophie Perkins), in love with Jason; Matt (Timothy Langan), another boy, in love with Ivy; and Nadia (Natalia Abbott), Jason's acid-tongued sister, with weight issues which lead to a her serious tension with Ivy.
Both Sophie and Natalie have terrific musical theatre voices, revealed at their full power in heartfelt ballads, but displaying range in more vulnerable moments. Strong performances elevated the exploration of their issues way more than a subplot.
In a strong young ensemble cast, who play the piece with abundant attitude and energy, Carolyn Oyada's bookish Diana stands out for me, her versatility highlighted by the total transformation as she becomes backing support dancer in a lively soul number.
They're well supported in adult roles by Penny Larkins as Claire Simmonds – Peter's mum, Gavin Leahy as The Priest and Annette Vitetta's snarly Sister Chantelle.
Musical Director Matt Reid leads an impressive eight piece band.
If, like me, your taste in teen-themed musicals leans more to Spring Awakening, and less to the current schmaltzified version of Grease, or High School Musical, bare should be right up your alley.
Neil Litchfield