Bare – a Pop Opera
Book by John Hartmere & Damon Intrabartolo, music by Damon Intrabartolo, lyrics by John Hartmere. Lane Cove Theatre Company. The Performance Space @ St Aidan's, 1 Christina Street, Longueville. May 10 - 25, 2019
Bare is not your usual musical. Sure, it's about love and trust, but its also looks at them in a very different setting and through a much broader, more inclusive eye. Bare is the love story of two schoolboys in a catholic boarding school in America or anywhere. There are whimsical moments, very touching moments and some amusing moments – all told in thirty-six musical numbers that vary in pace and style. Singing a story isn't ever easy. Singing it when it involves such poignantly contemporary themes is even more challenging. But this production does it with amazing compassion and tenderness.
Lane Cove Theatre Company has a reputation for punching above the expected. Bare is no exception. Director Kathryn Thomas, who directed Next to Normal last year, has brought another 'different' musical to the very small space that the company calls home. Thomas says: "I love the show because it captures vulnerability and struggle with all facets of adolescence, from sexuality to body image". Co-director Isaac Downey adds that it "resonates acceptance, blind faith and love".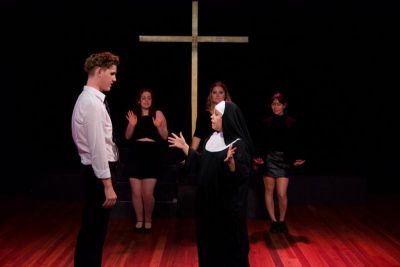 Thomas always directs with a carefully considered vision and empathy, for the themes and the performers. With Downey in this production, she uses space economically and levels to emphasise connections and contrasts. They manage the large cast judiciously, blocking tender scenes perceptively and choreographing the dance numbers to reflect the youthful energy and zest of the characters the cast portray.
Musical director Steve Dula has a feel for the space, adjusting the volume to endow the voices – which, thankfully, are un-amplified, making the touching scenes more natural and evocative. Lighting plays its part, enhancing the more delicate moments, augmenting the pace and humour of the dance numbers.
The relatively young, but talented, performers who play the students, have responded to the themes and direction with enthusiasm and passion. All work as a tight ensemble whether at prayer in the opening scene ("Epiphany") or at the birthday party that turns into a rave ("Wonderland"), or as observers in more poignant scenes where they support the protagonists played by Matt Shepherd, Mackinnley Bowden and Edan McGovern
These three performers carry some of those delicate scenes. Shepherd and Bowden, as roommates and secret lovers, Jason and Peter, find the vulnerability of their characters with a control that suggests much greater stage experience. They tell their story in songs where phrasing, timing and range are sometimes difficult, yet they manage this whilst at the same time conveying the depth of confusion and emotion that the teenagers they portray might feel. They have many beautiful duets, among them "Best Kept Secrets"and the title song, "Bare".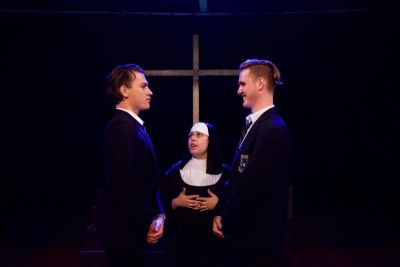 McGovern plays the difficult role of Ivy, who is also in love with Jason. McGovern uses a mature restraint that lends depth and conviction to the character. She uses her eyes expressively to heighten the emotive highs and lows of the journey the character makes. Whether singing and dancing, or slowly accepting rejection and shame, McGovern is persuasively in the moment. Her rendition of "Touch My Soul" lingers in the memory.
Lucy Koschel takes on the difficult role of Nadia, Jason's overweight, perceptive sister – and Ivy's roommate. Her performance of "Plain Jane Fat Ass" finds the agony of the sentiments it expresses, as well as the humour that is incorporated in the words.
Another difficult role is that of Matt, who is love with Ivy. Christopher O'Shea finds the debilitation of rejection in his portrayal of this dispirited young man.
The 'adult' roles in this coming-of-age musical are representative but beautifully incorporated into the story. Kristin Kok as Peter's mother, Claire, has been aware his sexuality for years, but is shamefully in denial. Anthony Mason is the rigidly doctrinarian priest who can't allow his compassion to override his religious beliefs.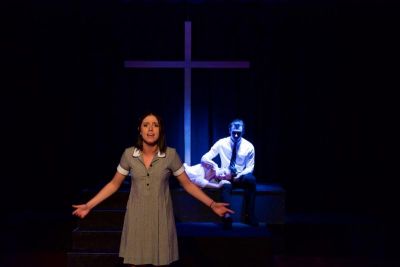 Carmel Rodrigues plays a much less constraining part as Sister Chantelle, the nun who is directing the school's production of Romeo and Juliet. Rodrigues is a ball of energy who brings the vital contrast that balances the emotion of the play. She sings and dances, admonishes the audience – and make a hilarious appearance in a dream sequence.
There are some haunting lines in this musical: "Do you watch me when I cry"… "I'm left with my courage alone" … "pain adores me, God ignores me" … "everything's an act when you're pleasing everyone" …
This is another brave production of which the company, the directors and the dedicated cast and creatives should be justly proud. It deserves to be seen and heard by a bigger audience.
Carol Wimmer
Photographer: Lachlan Bradbury