Beachside Stories
Melbourne Writers' Theatre. Directed by Elizabeth Walley. Studio Theatre, Gasworks Arts Park, 21 Graham St, Albert Park. 13th –22nd June, 2019.
This is a delightful collection of stories of five key figures in the City of Port Phillip. Each person is a kind of local star or celebrity in their own right and this project acknowledges their outstanding contribution to their community.
The ingenious approach to the scenarios sees the actual individuals on stage with a performer who appears in a manner which often resembles their alter ego. Dick Gross, writer, climate change activist and current Mayor of the City of Port Phillip, is accompanied by Alec Gilbert. In garish fashion they gleefully reminisce on Gross's adventures and misadventures. Though they take some time to warm up they provide a great introduction to the show.
Rev. Coralie Ling is interpreted by Emma Cox and together they reflect on the feminist battles that she fought as the first female Uniting Church Minister. Ling's warmth and quiet determination are beautifully highlighted in this sequence.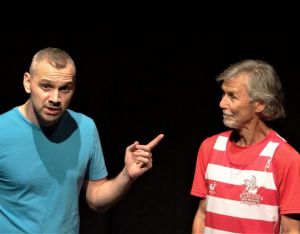 Former deputy Mayor, Peter Logan, is known for his activism in exposing misrepresentations related to the Gran Prix held at Albert Park. He recounts experiences such as evading the authorities during protests to a seemingly innocuous passer-by (Giovanni Piccolo). Their encounter involves a surprising revelation.
Melisand Box is in conversation with a replica of her film idol, Anne Hathaway (Karissa Taylor). Taylor exploits the parody well although the scene seems to focus on indulging a teen fantasy.
The story of Tony Manago is interpreted by Sarah Hamilton and Tony Adams each taking on an aspect of the larger than life character. Manago is affectionately known as the Singing Butcher of South Melbourne Market. He became an opera singer late in life, performing in Rome and Sicily as well as in Melbourne. The two actors provide interesting insight into his varied life, but the highlight of the show is when Manago himself appears on stage. He closes this heartwarming production with a beautiful rendition of 'O Sole Mio and his impeccable and dynamic voice creates a truly sensational finale.
Patricia Di Risio