Beautiful – The Carole King Musical
Book by Douglas McGrath. Words & Music by Gerry Goffin & Carole King, Barry Mann & Cynthia Weil. Adelaide Fringe. David Gauci & Davine Productions. Star Theatre. 19 - 29 February, 2020
Beautiful – The Carole King Musical premiered on Broadway in 2014. It has subsequently been performed throughout the USA and the UK, and there was an Australian tour in 2017. Why it didn't come to Adelaide is a mystery. However, thanks to David Gauci and Davine Productions Adelaide finally gets to see and experience this truly delightful musical.
This is a juke-box bio musical based on the early life of legendary American songwriter Carole King. It's not so much a 'rags to riches' story as Carole King found success very early in life. Her masterwork, however, is the album Tapestry that was released in 1971. In many ways this musical tribute to Carole King deals with her personal and professional journey to creating that extraordinary album; to reference William Blake it move from 'Songs of Innocence' to Songs of Experience, the maturing of a major American music artist culminating in Tapestry. The story goes from her first hits then to her marriage with co-creator Gerry Goffin as well as her relationship with fellow songwriters and friends Barry Mann and Cynthia to finally creating Tapestry and performing at Carnegie Hall. Along the way there is a plethora of great songs that will have you fondly sighing and tapping your feet or nodding your head and bursting into applause. It's a great night at the theatre.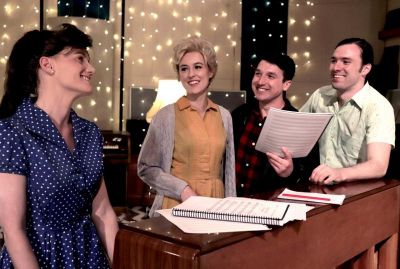 With an exemplary cast and crew it is difficult to pick out anyone in this terrific ensemble. However, this musical, as with any show, really succeeds if the audience actually cares for the protagonist and the main character. In this case Carole King herself – or a version of her. Jemma McCulloch is absolutely terrific as Carole King. Did I feel 'The Earth Move Under My Feet' – I most certainly did and was standing and cheering her and her colleagues at the end of the show. Trevor Anderson as Gerry Goffin, Maya Miller as Cynthia Weil, Joshua Kerr as Barry Mann, and Brendan Cooney as Donnie Kirshner are also wonderful in their respective roles. They are well supported by an excellent band, led by Musical Director Peter Johns and a sizable ensemble of fabulous young talent, some of whom are students at the new Musical Theatre course at Adelaide University. They and the entre ensemble are all terrific. One member of this ensemble in particular really impressed me – Carly Meakin who has the tiny role of 'Uptown Singer' and sings the song 'Uptown' – what a voice!!! Fabulous.
Full credit for this wonderful production, however, should go to producer-director David Gauci. I have been very impressed with everything David Gauci has done with Davine Productions, including excellent local productions of The Light in the Piazza, Violet, and It's Only Life. Adelaide and young musical theatre artists are blessed and fortunate to have someone like David Gauci supporting them and bringing to Adelaide shows that otherwise we would not see. Thank you, David.
Highly recommended.
Tony Knight