Beauty and the Beast
Disney's Beauty and the Beast by By Alan Menken, Howard Ashman, Tim Rice and Linda Woolverton. Nova Music Theatre. Director: Noel Browne. Musical Director: John Clancy. Choreographer: Jonathon Robinson. The Whitehorse Centre. October 21 – November 6, 2011.
NOVA's spring presentation was an old favourite in Disney's Beauty and the Beast.
The stage was attractively set, with great effects particularly in the opening, as the uncouth prince changed into the beast. The lighting was very effective, costuming absolutely magnificent, the orchestra remembered its true function and accompanied the singers, and the sound engineers surpassed themselves with the correct balance.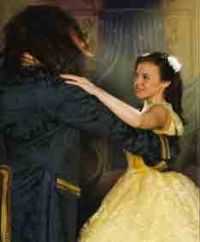 The two highlights of the evening were Robert Clark as the Beast and Georgia Wilkinson as Belle. Both have excellent stage presence and are wonderful actors. To top it off, the voices are absolutely superb; in their duet you could have heard a pin drop and the audience held up the show momentarily with the applause.
John Gardner was also outstanding as the self-centred all-round hero Gaston, who has decided that he will marry Belle regardless of her opinion, giving the wonderful well-balanced over the top performance the role called for.
Daniel Ham gave an excellent performance as his partner Le Fou, a dumb servant type, who caught the finer nuances of the character.
An actor/singer who nearly stole the show was Greg Beresniak as Lumiere, the Beast's servant who was slowly changing into a candelabra. Beresniak has a good voice clear, and sings with expertise. His acting was outstanding and he really caught the audience's attention and applause.
There were no poor performances but with such a large cast it is hard to mention everyone.

The scenes in the forest were excellent, first when Maurice gets lost and is attacked by the wolves (which was impressively choreographed), and when Belle came looking for her father and the Beast saved her.
Nova Music Theatre outdid themselves and is definitely a company not to be missed. Their next production is Miss Saigon in May 2012.
Peter Kemp
To keep up with the latest news and reviews at Stage Whispers, click here to like us on Facebook, or follow us on Twitter.