Become the One
By Adam Fawcett. Lab Kelpie & Gasworks Arts Park. Midsumma Festival. 31 January – 9 February 2018
Top AFL star Tom (Chris Asimos) interviews – or auditions – a cleaner for his high-rise luxury apartment. In fact, the young cleaner, Noah (Henry Strand), is used to high profile clients – and he's auditioning Tom. If Tom's an arsehole, Noah's gone. Tom's not an arsehole – not exactly - but his sexual attraction to young Noah is palpable - if unadmitted – and we wonder a little that seen-it-all Noah doesn't see it straight off.
Thus begins Become the One, a slow-burn love story that is absorbing, touching and credible but never sentimental. Adam Fawcett's text is spikey and smart, opening up all the issues that stand between these lovers – between each becoming The One for the other – but without being preachy. It is very specific but the situation, the dynamic between Tom and Noah is far from unique. The play has a straightforward, surface simplicity – a seventy-minute two-hander, all set in Tom's apartment – but sensitivity and intelligence are woven all through it and it resonates beyond these characters.
Mr Fawcett does this by his choice of characters – and then these very fine actors bring them to life under Lyall Brooks' well-paced, edgy direction. Mr Asimos' Tom is bluff and buff, macho, inarticulate about himself and his feelings - by choice. Football is his life. He knows it's the one thing he's good at – so it's all he's got. At one point, he shouts, 'I am not gay!' Mr Strand's Noah – an example of fine stagecraft - is a complete contrast: younger, scarred by his life experiences, wary but wryly witty, quick and articulate – and zero interest in footy. But he has no doubts about who and what he is, although he's understandably prickly and self-protective.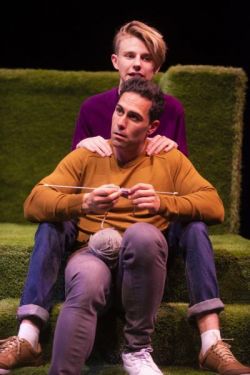 Despite the fact that, in reality, several high-profile footballers have now courageously 'come out', Mr Fawcett in his program note thinks there are more – and Tom's reluctance, his stonewalling, his hurtful (to Noah) secrecy and denial of their relationship are all totally credible. Two steps forward; one step back. Noah's struggle with Tom and Tom's struggle with himself are the subjects of the play.
Design is credited in the program to 'The Team', but it too is deceptively simple and suggestive. We see a section of Tom's luxury living room, complete with knock-off Eames chair, but the 'couch', the steps and floor are carpeted in astro-turf suggesting the gladiatorial arena that is Tom's outside world. Benjamin Morris' lighting handles transitions smoothly. Rather than going to total blackout between the mostly short scenes, he dims the lights so that getting the characters on and off – plus props – almost become part of the narrative. Tom Backhaus' music is, for me, a touch over-insistent and over-dramatic – surprisingly, given his excellent work on previous productions.
It takes some traumatic (off-stage) events to break down the barriers between this ill-matched couple. Here the nature of the two-hander creates some problems: complex and emotional events involving important characters – Tom's father, Noah's mother – and which force the characters to change, must be described (reported) in dialogue. Good as that dialogue is and while accepting the theatrical convention that we'll be told rather than shown, the descriptions don't quite do it: we can't help thinking, 'I wish we'd seen that.' On the other hand, there are scenes here with no dialogue at all and their meaning and emotion are perfectly clear.
Become the One is, remarkably, Mr Fawcett's first play. It won the 2018 Midsumma Playtime Award for new queer writing, so this is, in a sense, a revival. It's a well-deserved revival because it is a beautifully written piece, beautifully acted and directed, and in which we invest emotion because we want very much for Tom and Noah to be – simply – together and happy. But it will take great courage and sacrifice to fight the world outside.
Michael Brindley
Photographer: Jodie Hutchinson